Relationships come and go.
It's a fact of life, and it's a fact of business. It's not always due to a bad experience- sometimes it's just time to move on.
It's important to always remember that it takes two to tango whether it's a personal or professional relationship. If one of us just isn't feeling it, it's time. Whatever the reason, nobody likes a bad breakup.
It stinks to get dumped!
One can't help but wonder: "Is it really too late? What did I do wrong? Maybe there's a chance to save the relationship…?"
From the other perspective, it's just as sad. "What was I thinking? This was such a waste of time… totally not what I expected."
Michaels craft store chain understands both sides. A friend of ours was recently taken to this page when unsubscribing from their email list:
(Please click the image to enlarge.)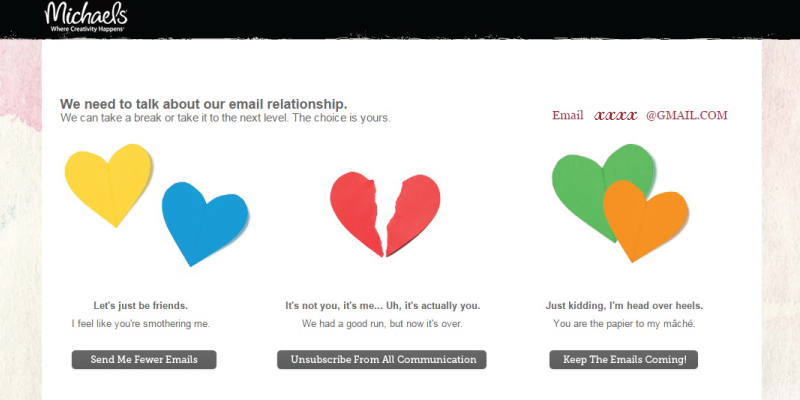 What I love about this:
Their last effort was not a "last ditch effort."
We see plenty of unsubscribe pages that say things like "Are you sure you want to miss out on our special offers?"
Michaels recognizes it was probably a moment of dissatisfaction or frustration that brought the subscriber to this point. When something is clearly not quite right, they make sure the situation ends with something positive, unique, and memorable.
We know this technique as the peak-end rule, which not only helps retain customers after things go awry, but often has the power to forge stronger loyalty from an otherwise bad experience.
Letting customers call the shots
Just because the customer is not happy in the current situation doesn't mean they won't be happy in any situation with your brand. Michaels put some real thought into this- not as an exit point, but as an important customer touchpoint.
They addressed the key realities of the relationship when designing this page.
"Does it really have to be all or nothing!? Maybe we can meet somewhere halfway."
"Let's give them a chance to stay connected on their terms."
"If we're sincere, maybe this little 'talk' will be enough to remind them why they love us!"
Humility
Michaels understands they can't be the apple of everyone's eye. Instead of being brand-obsessed and pointing out why the subscriber is making a mistake by unsubscribing, they respect her enough to know when her mind is made up.
Personality
Many brands do a great job at showing their unique personality through marketing, and throughout the customer journey. But many others drop the ball at a moment like this.
Michaels knows this is not a time to just stop being who they are. The tone and design are consistent with their brand image, even though they know this is most likely the end.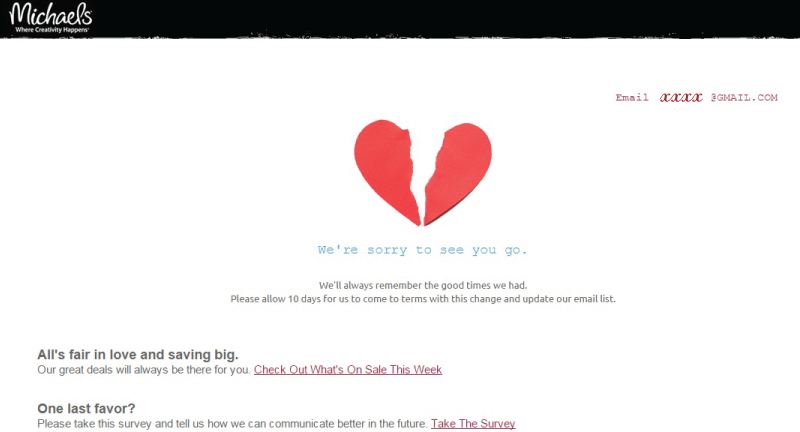 Leaving a light on, and a door open
After unsubscribing, there's still someplace to go and a chance to make a sale. Sure, they no longer wish to receive emails, but they obviously had an interest in craft supplies if they subscribed in the first place.
Instead of the generic "You will no longer receive…" confirmation page, Michaels offers a link to their sales page. Great move!
Listening
Customer feedback is vital when it comes to creating the best experiences, but getting it is a challenge! I love how Michaels asks for "one last favor" because when a customer is actually willing to spend an extra moment providing feedback, it really is a HUGE favor! And it's a great way to say "Is there anything you'd like to say to us?"
After an experience like this, I would be glad to do them this one last favor before moving on.
How do you say goodbye to customers?
Think about the last time you wanted out of a relationship with a brand.
Were they willing to continue the relationship on your terms? Were they too determined to fight a losing battle, or did they just let you go as though you were not worth the effort?
Finding a healthy balance of emotions in these situations is crucial.
What would have made a difference for you?