Who doesn't love a quick win?
Customer experience leaders often have to celebrate quick wins and show other leaders fast, to earn that next round of support. But I get nervous when people ask me about customer experience shortcuts.
Too often, shortcuts within the wrong areas lead to shortfalls and short-sightedness on what really matters.
Customer experience management can feel like a lot. Some CX leaders try to take on every part of the customer journey. They are designing customer feedback surveys and strategizing around the onboarding communications. They are reacting to the feedback and reporting on the results. They are communicating directly with customers and presenting to leaders. It IS a lot.
So where can you gain quick wins and take some shortcuts? Read on.
And one quick note: These quick-win activities are part of our 21-Day CX Challenge. If you're looking for more ways to quickly build momentum and start creating fewer ruined days for your customers, look no further.
Three Activities for Customer Experience Quick Wins:
1. What do customers really want? Ask them!
We have an "expert" problem.
All across the internet, at the conferences you attend, in articles not too dissimilar from this one… experts are more than happy to tell you what your customers like, what they don't like, and what they want.

And sure, there's validity to what they have to say. True experts can tell you all about trends and data points and all the rest. But do you know who the real expert is when it comes to what your customers want?
Yep. It's your customers.
Now I'm sure you already know this, but knowing is only half the battle.
I see too many CX leaders overcomplicate things, thinking that to get customer feedback they need:
A series of listening posts set up across customer journeys

Questionnaires and Voice of the Customer (VOC) metrics

Buy-in across the entire organization
Now those things are great to have, but they're not necessarily quick to set up. Here's the good news: While all of the above are nice to have, they're not needed to start making progress.
In fact, one of the most effective and efficient ways I've found to learn what's working and what's not… is simply to ask.

Try This:
Call your best customer. Choose someone you've got a good rapport with — somebody who will speak candidly but also likes you enough not to deliver a laundry list of complaints.
Tell them what you're doing — that you're working on improving the customer experience for them and everyone like them, because it's important to you.
If you think it's necessary, make sure to articulate that you're looking for honest constructive criticism, even if it's not particularly flattering.
Then ask them the key question:
"What do you wish we did differently?"
That one question will get to the heart of where you could most improve, and hearing feedback from someone outside the organization will help avoid those pesky blind spots that can crop up for you and your colleagues.
As an added bonus, your willingness to accept and consider constructive criticism will build even more trust and strengthen an already strong relationship.
2. Create a Positive Feedback Loop
The scientific definition of a Positive Feedback Loop goes something like this:
"A positive feedback loop is a system where one variable increases the quality of another variable which in turn increases the quantity/occurrence of the first variable."
A classic example of this is fruit ripening on a tree. As an apple becomes ripe, it produces ethylene gas. Ethylene gas signals to nearby fruit that it should ripen, and as that fruit ripens, it produces more ethylene gas, accelerating and continuing the cycle.
Positive feedback loops can also have negative results: The same example above is why the idiom "one bad apple spoils the bunch" is true, at least in the literal sense. That ethylene gas continues to be released as an apple becomes overripe and spoils. The gas from one bad apple actually can spoil the other apples, especially if they're all in the same bag.
Let's bring this example back to work. There are lots of ways feedback loops can positively or negatively affect your company, but the one we want to look at today is, well…actual positive feedback.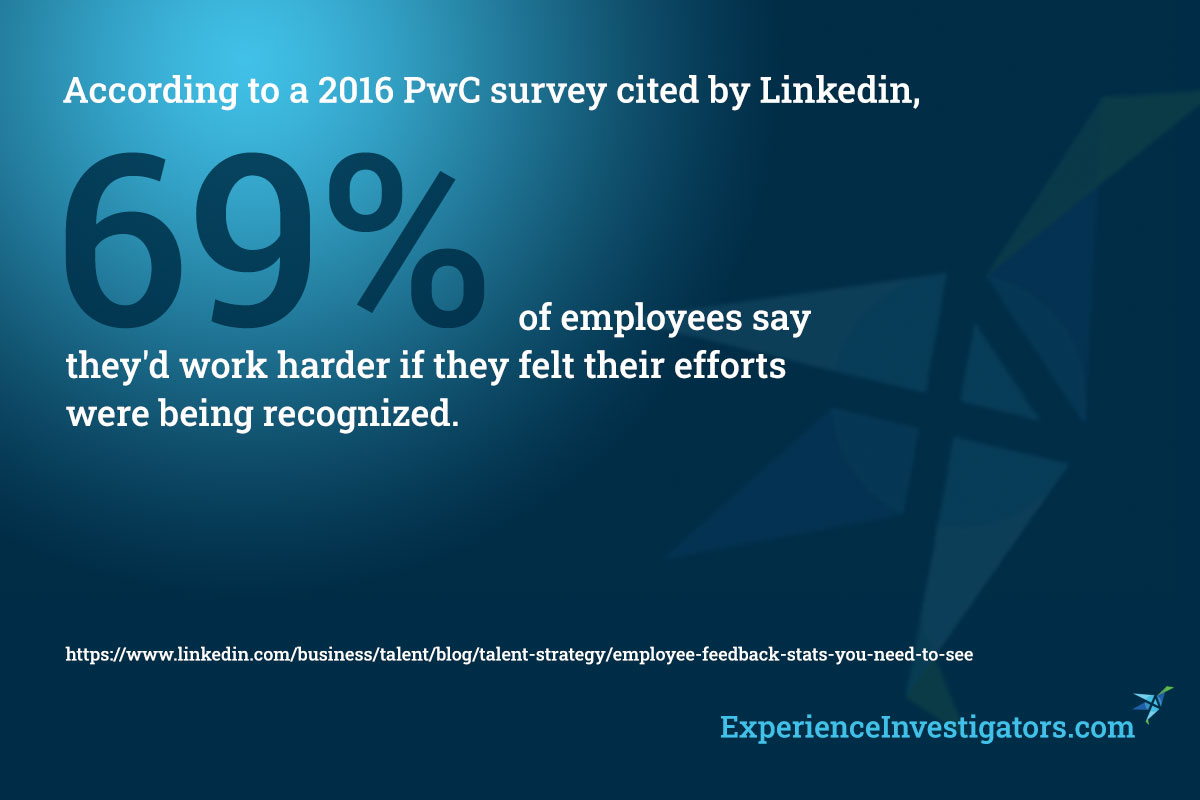 According to a 2016 PwC survey cited by LinkedIn, 60% of respondents reported they'd like daily or weekly feedback (72% among those under 30 years old), but only 30% said they receive it.

The same Linkedin post said that 69% of employees say they'd work harder if they felt their efforts were being recognized.

When the team is feeling recognized and working harder, it's easy to create better experiences for your customers.
Try This:
Email your team today and thank them for their work.
Better yet, find a moment when you're not interrupting to walk over and say it to them face-to-face.
Emphasize how their work is connected to the customer and is critical to the organization's success.
You don't have to be corny or patronizing; just genuinely let them know that their work is recognized, appreciated, and creating a better experience for everybody.
It may seem like a small step, but all positive feedback loops start with a single small step. How far can this loop go?
3. Listen beyond what they tell you.
Social listening is an industry buzzword, but it describes a very simple concept: monitoring social media and the web as a whole for mentions of your brand.
By having your finger on the pulse of how people are talking about your brand, you can capitalize on opportunities, nip potential problems in the bud, and generally improve the overall sentiment toward your brand.
But there's one very common, very critical component of social listening that many brands overlook…
What about people who haven't met you yet?
What about those who have problems that you solve, but haven't heard of your brand name? What about those who've heard of your brand name, but don't realize that you can solve their problems?
What are those folks saying online, and how can that be leveraged to create better experiences for them?
Try This:
Search social media, user forums, and review sites for questions that apply to your product/service.
Don't look for your brand name. Rather, seek what information customers are trying to find and use it to create awesome experiences they will LOVE.
If you're not sure what to search for, here are some ideas:
Try a combination of the name of your general name of your product or service + an emotion:

happy, sad, thrilled, frustrated, love, hate

.

Try a combination of the result your product or service creates + questions:

how do I, why is it, where can I…

Look at messages your competitors are "@" tagged in.

What are people saying they're especially thrilled or unhappy with?
If something strikes you as remarkable, make a note of it.
Then critically look at what people are saying and see how it applies to your own brand:
If people love an experience, is that something we're providing?

If people are frustrated by an experience, is that something we may be guilty of, too?

If somebody has a problem you can solve but doesn't know about your solution, how are they articulating that problem? Are you currently doing a good job of meeting these types of potential customers where they are?
Three Areas Not to Take Shortcuts:
Where are quick wins harder to achieve? There are some places where it's simply not worth it to take shortcuts.
1. Hiring people
Your people, no matter what level they are or what they do, have absolutely the most impact on the experience your customers have with your organization. Don't cheapen the process or make excuses for hiring crappy people. It will not serve you or your customers.
In fact, spend some time making sure the employee experience, starting from the candidate experience, aligns with your customer experience mission and values. 
2. Developing Decent Content
Don't waste people's time.
If that newsletter you send out is automated wonderfully and arrives just on time but is full of crap? Nobody appreciates it. And if your customer service copy is not worth the time to read it, then start over and take the time you need to make it worthwhile.
Align your content strategy with your customer journey. What do customers need and where do they need it to accomplish their task or simply feel better about the customer experience? These are big questions that deserve well-thought-out answers.
3. Testing and testing again
If your process looks great from the inside, don't assume that's how it works 100% of the time on the outside. Test your processes from the customer's perspective all the time and from as many different customer angles as you can think of to ensure success.
Invite customers to find what doesn't work and give them a way to tell you. 
Quick Wins Can Support Long-Term Efforts
Quick wins and shortcuts can help even the most efficient CX leader gain more traction and get the buy-in they need from other leaders. 
While we all know that customer experience isn't quick or simple, there are still quick wins to be had. And when we get those quick wins, we help our leaders buy-in, encourage and empower our employees, and get information that can inform our longer-term efforts.
Customer experience is a long-term game. But there are some short-term wins worth competing for. 
Looking for more ways to get quick wins? Check out our 21-Day CX Challenge!