I hate to break this to you, but we're more than half-way through the calendar year. Have you done a mid-year review yet? This is a critical time to review your goals for this year and check your progress. But if you're only looking at profits and growth, you're only part of the way done.
It's time to take stock of your what you've done for customers lately too! Ready to review?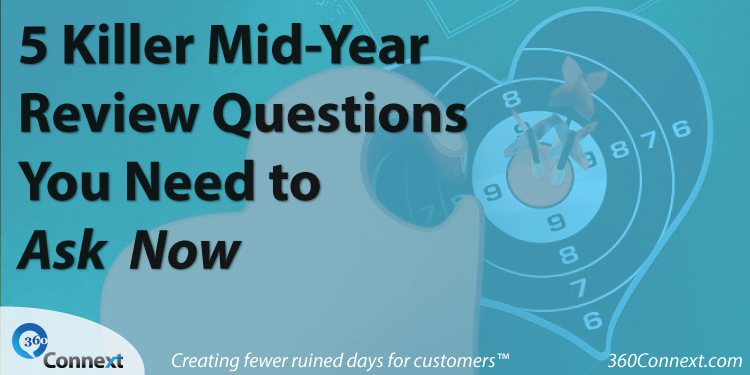 1. What were your customer experience goals this year?
Did you have any? How are you doing on them? Were they short-term and too metric-centric? Or not defined enough to really know when you are making progress? It's hard to aim for success when the target keeps moving.
2. What's the ROI you can prove?
Yes, customer experience provides many returns on the investments made. It's time to become aware of what those are if you haven't already, and time to communicate about them if you already know.
There are people and teams and leaders in your organization RIGHT NOW who are doubting the hard work of providing great customer experiences. They are not understanding either the work behind those magical experiences or the reward of providing them in the first place.
3. How consistently have you communicated with employees about your mission?
Speaking of communication, how are you helping everyone in your organization to connect the dots between what they do everyday and what experience you are hoping to deliver to customers? Do they know your customer experience mission? Do they know how that mission is translated into action? If not, time to get to work.
'Messages need to be reinforced and reminded to really become internalized.' - @jeanniecw
Click To Tweet
If you are asking yourself, "What's a customer experience mission?" then you may want to create one before the end of the year. I believe there are few things that can create lasting change more than a true mission for what you are doing for customers. Go beyond the platitudes of "providing the best service" and think differently.
4. What sort of feedback has prompted action?
Gathering feedback is the first step. What have you done with the feedback you've gathered? Is it sitting in some survey database? Did it prompt some conversations within the walls of your organization, but never become actionable steps? Was feedback a source of finger pointing and blaming among your departments? None of that really does anything.
It's time to take a look at what happened as a result of customer feedback. Are there action plans in place to correct a specific area of frustration for customers? Time to check in on those, too.
5. What's the best way to improve the experience in the last half of the year?
Maybe you have had to shake your head and realized some hard truths about your customer experience work. That's ok. There's still plenty of time to get it right!
What can you do between now and New Year's Eve to make things better for you and your customers? What do you know has to be done?
Now…go do it.
Need Help?