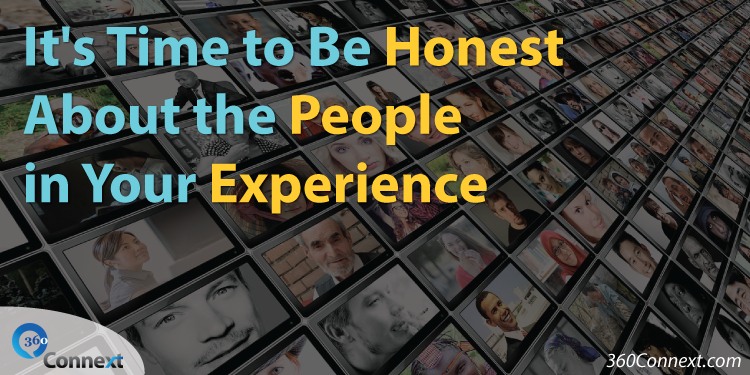 It's all about your people. And it's also about…your people.
Several customer experience case studies confirmed this idea at Medallia's Experience 2017 conference. They are valuable reminders of how customers are people, and they respond best to people who understand their situation, and better yet, understand how important their roles are in delivering an exceptional experience.
Ground zero of any customer experience isn't when a leader reads a book then declares it "the year of the customer." It's when the leaders realize they have a problem, then admit it.
Connecting the dots of customer experience
Here are some valuable lessons from the customer experience case studies presented at Experience 2017.
Using truly customer-focused metrics
Comcast (yes, Comcast) has been in the middle of a journey to shift both brand perception and the experience they deliver. In a compelling and revealing presentation, Graham Tutton, Vice President, Customer Insights, shared how they now measure metrics that matter to both the brand and the customer.
These changes have improved the employee experience in dramatic ways, too! Who wants to work in a place where customers complain both to and about the employees in viral videos and publicly on social media? My favorite metric was how they determined the incredible results of reducing wait time. This is an important factor in customer experience – we've all been there, right?
So Comcast made dramatic efforts to improve the wait times and engaged their employees in the field to help. The result of reducing YEARS off the wait time for one region illustrates the power of customer experience!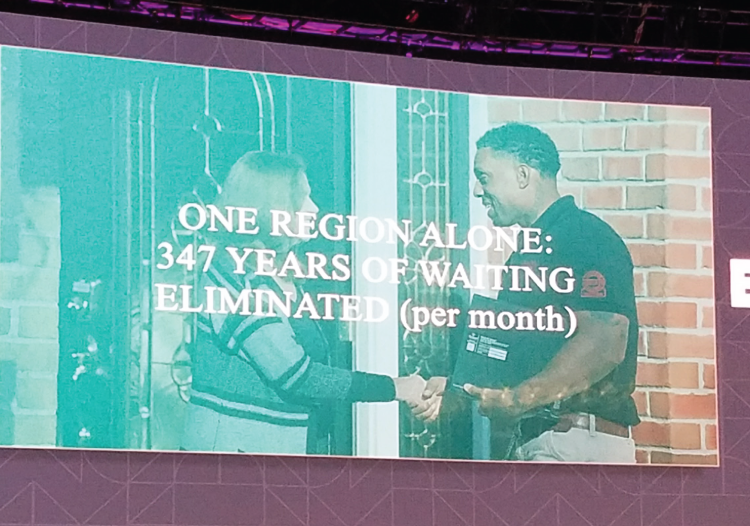 Save 1,000 words
Delta Airlines Cargo is a bigger business than you may realize as a regular airline passenger. Shipments of cargo sit beneath you on almost every flight.
Gareth Joyce, Senior Vice President, Airport Customer Services and Cargo, changed the customer experience by creating a stronger vision. Instead of just using words, his team created the vision in photos. "This is what we want it to look like for customers in one year." This motivation was powerful because employees could look around and realize when the image right in front of them wasn't living up to the image of where they were going.
Within one year, pretty much every metric around customer experience success had improved, and in one case, there was a real-life photo that almost mirrored the original vision photo.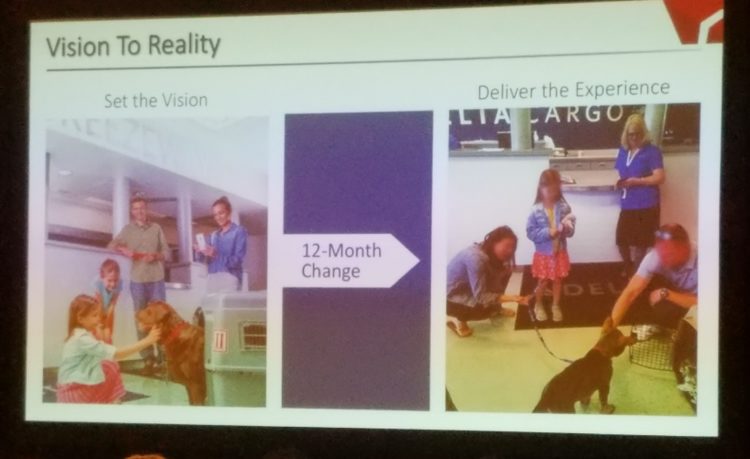 Bots are here to help, not take over
Capitol One of "What's In Your Wallet?" fame has faced similar challenges around growth. Noelle Eder, Chief Card Customer Experience Officer, made the case for AI and bots as a way to improve human to human interactions. If a bot can answer common questions in convenient ways like texts for customers, then those who need something or someone in complicated situations have more access to fellow humans.
When customers lose a card or experience fraud, they need reassurance, which a bot can't always deliver with the empathy needed. So let the bots handle questions like "when is my payment due" and keep your humans to respond to those crises and important situations.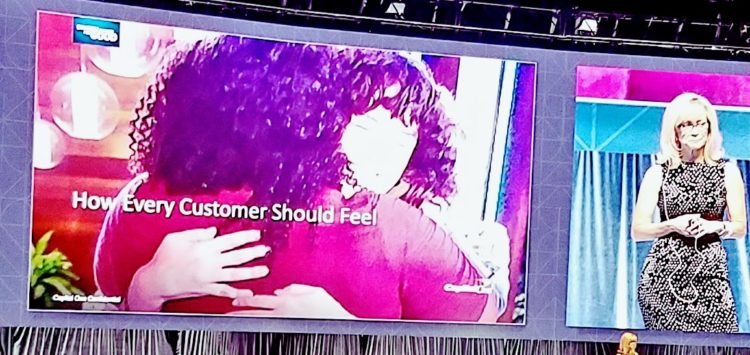 Put people before metrics
Finally, the metrics of customer service for in-store or contact center employees have long been about the group. "Your store dropped 1% in NPS scores this month!"
But now there are ways to tie individual customer's feedback with the specific employees who served them. This shifts the conversation to one of "let's do better, guys" in a generic and general way to "Hey Susie – this customer loved you! What do you think you did to earn this kind of feedback? Let's share it with the group." Morale, motivation, and consistency in performance go up. Managers have better communication with staff. And of course customers get a better experience.
The marriage of technology and humanity is here to stay. Since we have a handle on the power of the technology (for now) it's time to leverage this amazing resource to serve the people who serve your customers.
Thank you to Medallia for a wonderful conference!
Learning opportunities like this one help us elevate the experience for customers, no matter the industry. Our mission continues to be Creating Fewer Ruined Days for Customers. It's exciting to think of the new and powerful ways we can continue to do that.