How can leaders best prepare for the next normal? Service blueprinting may be the answer.
What is the Next Normal?
Organizations are planning for a phase of reopening including determining how customers can safely make purchases to how many employees can really come back to certain workplaces.
It's no small task and it's really a new experience for everyone. Most workplaces weren't designed to consider a pandemic and customer experiences weren't designed with hyper consciousness around health and safety from an invisible virus.
Architects rely on blueprints to understand structures and determine critical choices like where to bust down a wall. Experience leaders can use this same philosophy and approach with service blueprints.
What is a Service Blueprint? How Does it Differ From a Customer Journey Map?
Service blueprints are designed to map out the future experience for customers as well as the backend processes and systems to make the experience happen.
This might sound like a customer journey map, but there are a few distinctions.
A customer journey map is from the customer's perspective, and focused on their actions, feelings, thoughts and needs.
A service blueprint builds on that outside-in perspective and considers the inside-out requirements.
The service blueprint conveys what people, processes, systems and communications are required to deliver on the best experience for your customer.
As an example, consider how a customer orders groceries using an app.
The customer visits the app on their mobile device.
They make selections based on what they see is offered there, checking boxes.
They see their selections in their shopping cart.
They pay with a credit card and schedule a delivery date.
They might receive confirmation communications and updates on their delivery.
Then the groceries are delivered. The customer sees this as a success!
A customer journey map would show the experience your customer has or the experience you'd like to design. But those groceries don't show up magically, do they?
A service blueprint considers the customer experience, then drills down to the "backstage" events.
The app requires backend technology and processes to ensure the information the customer submits is saved.
The payment process requires layers of security and banking technology.
The groceries must be selected by a human shopper, who requires scheduling and other layers of communication and payment options.
And on and on it goes!
How to build a Service Blueprint
There are several steps to building a service blueprint, and the best ones include nuance and an understanding of the entire end-to-end journey:
Physical Evidence
Customer Actions
Frontstage Actions
Backstage Actions
Support Processes
Lines of Visibility & Interaction
For the purposes of this article, let's focus on the three key steps toward building and using a service blueprint.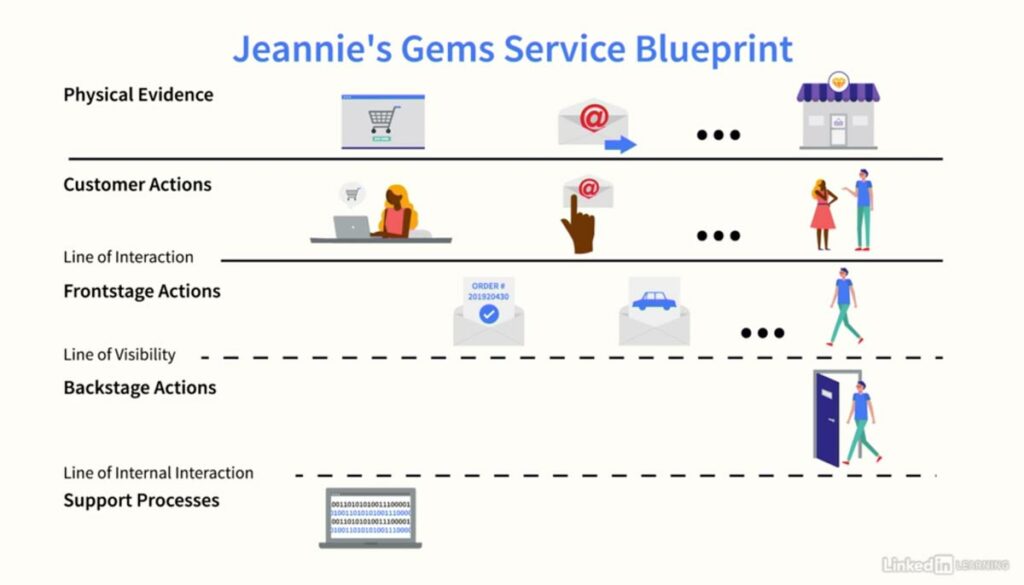 1. Map the Frontstage Actions
Frontstage actions are all about what the customer sees and interacts with along the journey. This includes experiences like ordering on the app, like in our example.
We can think of Frontstage actions as having two components:
Customer Actions — those actions the customer takes along their journey.
Employee Actions — those actions that employees take to directly engage the customer.
Some customer actions are independent of employee actions. Examples include:
Ordering directly from an app, like in our example above
Using a self-checkout system
Using a website or other technology
But many customer and employee actions will have multiple points of interaction. Examples of this include:
Customer support providing direct customer service to the customer
A sales associate manually processing a customer payment
An account manager reaching out after a sale to follow up with a customer
It's helpful to track these interactions, and we can do so with a line of interaction, a literal line drawn on our service blueprint that helps us track where these interactions occur.
Here's a tip that will save you time: When mapping your front stage actions, use existing resources — like your customer journey map or Net Promoter Score (NPS) feedback — as points of reference for your blueprint.
2. Map those Backstage Actions
What happens behind the scenes? Consider:
Tasks employees need to complete behind the scenes
Systems and technology required to move the customer to the next step
Processes required to deliver the experience promised
Backstage actions often include their own "Line of Internal Interaction." Employees might swipe a credit card and wait for approval from a system, for example.
In this example, the way the system works is not visible to the employee or the customer. But the success of failure of that system has a direct impact on the customer experience.
These processes that affect the customer without direct visibility are referred to as support processes.
Service blueprints help bring all of these points of potential delight or friction into full view.
3. Use the Blueprint to Create Solutions.
Service blueprints are more than just documents outlining actions and interactions. They're tools which can remedy long-standing points of frustration — not only for your customers, but for your team as well.
Share your blueprint with company stakeholders — managers, operations, IT, etc — to get everybody aligned to one goal around the customer.
Use it to create cross-functional teams who can clearly see how their role fits into the bigger picture.
Address the most glaring points of friction for your team and customers
You can even use your service blueprint to train new employees as they're brought on.
Ready to Get Started with Your Own Service Blueprint?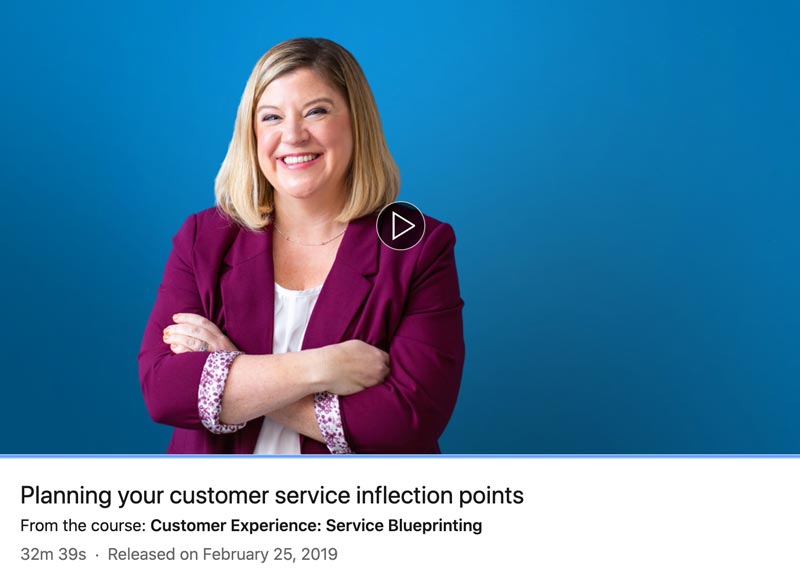 I encourage you to take my Linkedin Learning course — Customer Experience: Service Blueprinting — which includes:
32 minutes of video lessons
A service blueprint template worksheet
Two example service blueprints
A data-gathering checklist
A workshop preparation checklist
Certification upon completion
The course is $29.99, but included free for Linkedin Learning members. Not a member? You may be able to redeem one month free.
(Disclaimer: Links to Linkedin Learning are affiliate links.)
Ways to use Service Blueprints in Our Next Normal
Moving into the next phase of our shared reality — whatever that may be — means planning for what we know and making accommodations for what we don't know yet.
Related: How to Build & Maintain Customer Trust During Covid-19
Service blueprints are great for visualizing the experience and the requirements needed to deliver on that. Here are a few ideas for leveraging service blueprints today:
1. Create blueprints around delivering products and services in new ways.
Blueprinting helps build the foundation around what's needed.
Offering curbside pickup? What does that really require from employees, processes and systems? The blueprint can tell you.
2. Leverage blueprints to think through several scenarios.
Need to reduce capacity in physical spaces? Create a one-way traffic pattern? Service blueprints can help.
3. If there is a gradual opening, service blueprints can be adapted for each phase or timeframe.
Build a phase one blueprint and then layer on what's needed for phase two and three and beyond.
4. Employees might require additional time, training and tools to serve customers.
Service blueprints are a great resource to think through what's truly needed to set the right expectations with employees.
With a blueprint, employees could help test experience moments like how long it takes to sanitize a customer area, for example. That time expectation could impact the way customer expectations are set and employee standards are measured.
5. Get leaders on board.
It's not unusual for executives to be many layers away from the actual customer experience. They might not have a true understanding of the impact new safety procedures have on the employee and customer experience. Service blueprints can include information like average time required to enlighten executives and others throughout your organization.
Service Blueprints are the Perfect Complement to Customer Journey Maps
Just like journey maps, service blueprints are not about an artifact. They're there to be a tool and resource.
Now is the perfect time to leverage these tools to do what's best for your organization, your employees and your customers.
Need help getting started?
Whether it's a quick consult or a complete workshopping series you need, we're here to partner with you.