"Say please!"
I say this to my children in a nearly constant refrain. Actually, now that they are pretty good about manners, I typically just give them a Mom glare and the polite words fall out of their mouths. But they have also learned that these words matter not because of the words themselves, but because of the reason behind them.
Manners matter because it's a small but important way to show others we care. We care about them enough to acknowledge when we are asking for something, expressing thanks for small graces, and showing common courtesy for our fellow humans.
I'm not sure where the disconnect happens.
But somewhere along the way, organizations often forget the intentions of the rules they set for their teams. They focus solely on the tactics of expressing thanks or showing good manners, instead of hiring, training and reiterating the reason behind them.
Recently, I saw this in action in the most blatant of ways.
On a vacation with the family and some friends, we had the good fortune to stay in the very swanky Fontainebleu resort on Miami Beach. We and our friends had 4 boys under 12 among us, and to say they enjoyed the pool is an understatement. It was a no-brainer when we heard they served food poolside for lunch.
Both families ordered food at the exact same time, and similar orders of kids meals, salads, fish tacos, and cocktails for the parents. After a decent wait, my family's food was delivered and the server assured us the next one would "be right up." We dragged 4 boys away from the water to dry off and eat.
Then our friends had to wait. And wait. And wait some more.
It was baffling. Finally, about 25 minutes after my family had been served, their order arrived. I'd love to say we all thought the food was worth the wait, but that wasn't the case, either. The food was not great, and the bill was pricey, as expected at a place like that.
Our food was delivered by someone other than the server who took our order. She kept saying it was unusual to wait and it certainly wasn't her fault. But neither she nor the guys who delivered the food ever mentioned the long delay. There were no apologies or offers to make it better.
But here's where things get a little challenging from my view as a customer experience professional.
After a few hours, we wrapped up our bills and called it a day. Our server said something about sending us a note so we should watch for it.
Later that night, a note was slipped under my friend's door at the hotel. It was a note, as promised, but I couldn't for the life of me understand the mission of it.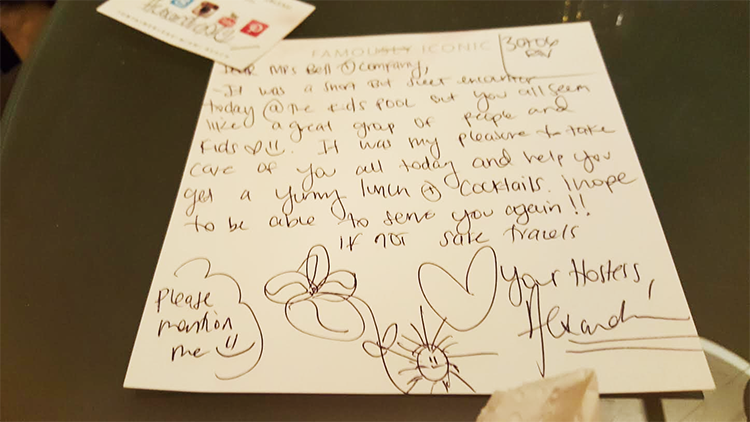 The note, in an ideal world, would mention the long delay my friend's family had for their lunch. It might include an apology or an offer to make up for it. It may say "come back tomorrow and we'll throw in a treat for the kids" or something – anything – to acknowledge the service was poor.
Instead, the note (and several other cards like it) beg for social media mentions. They want us to Instagram our visit.
Great. I get that need. But I don't think this is what the intentions should be. The note should be about expressing gratitude to guests. It should be about making a memorable experience. Instead, it's turned into a "write a note so they tweet about us" message.
Ew.
And at a place where they justify charging what they do there, it seems service should be impeccable. But it wasn't. It was far from it in this case. So what's the point of the note?
'When intentions don't carry through to the tactics used, the experience suffers.' - @jeanniecw
Click To Tweet
When well-intentioned people, like our server, follow the "rules" but don't understand the reasons, it doesn't become an emotional exchange, it becomes a reminder of what went wrong.
Do you really express WHY you want your team to behave in certain ways?
Do you tell them to "greet with a smile" but don't tell them what you want that smile to convey? Fake smiles, fake notes and the wrong tactics don't solve service issues. Only genuine people who understand what they're trying to do create meaningful experiences.