Are Customer Journey Maps Really Necessary?
My client had just returned from a presentation to her executive committee. She was defeated, and realized she made a misstep in trying to get resources for a journey mapping initiative. The C-Suite had heard her desire to understand customers better, but they couldn't see WHY that exercise would benefit the company, exactly.
They wanted to know why they needed a customer journey map, when they already had:
Process maps
Product roadmaps
Customer feedback dashboards
A corporate vision to "provide a world-class experience for customers"
And, perhaps most importantly, they just "got" their customers.
You've probably already identified the issue here, right?
The C-Suite leaders thought they had a handle on the experience their customers were having. They believed those process maps were representative of the customer's journey. They were proud of themselves for reviewing customer feedback dashboards and leaning into the idea of providing a world-class experience for customers.
And they thought – hey, we know our customers! They love us. No worries here. Our product roadmaps are based on what our customers want and they'll get it…in six to eighteen months maybe.
Those tools and dashboards are helpful. They have many uses and are important to keep a business focused on how to most efficiently make progress. But none of those things – even the customer dashboard – really tells the customer's story.
Process maps are internally focused. They tell the story the company believes is most important – how to move products or data or distribution – from one part of the organization to the next.
Product roadmaps are often based on what priorities have been identified as most important to customers. But they are also all about what's next for the product, not the customer.
And those dashboards provide insights, for sure, but often lack connections between the customers who represent those numbers or the actions required to make real changes.
So my client and I came up with a plan. We wanted to showcase just how journey mapping could help the company move forward in powerful ways. Journey mapping has many uses, but these could inspire you to create a meaningful goal to gain traction with your own.
Real-World Examples Of Journey Mapping Use Cases  (& the Wins They Deliver):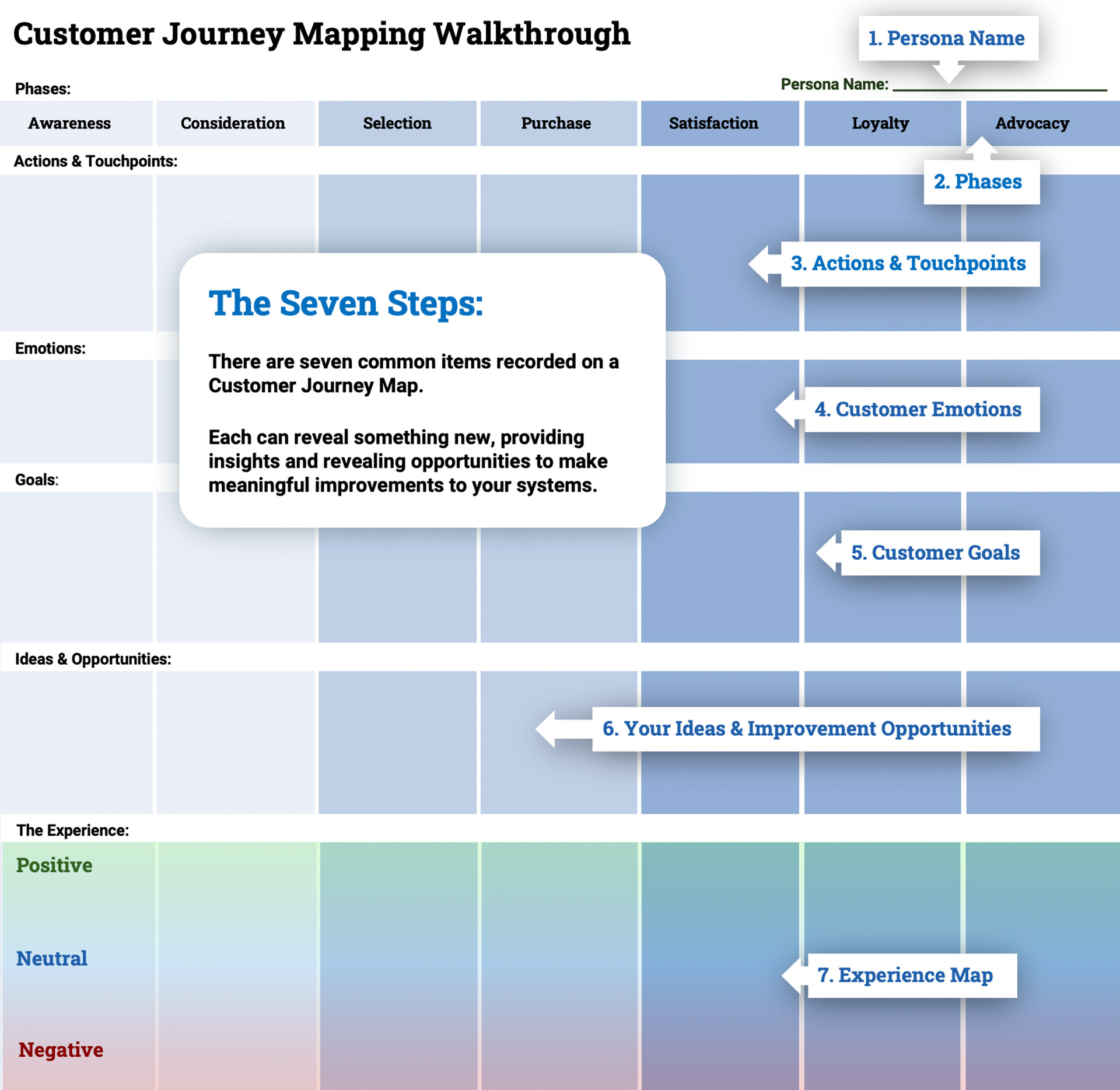 Find Out What's Happening TODAY with Current State Mapping
Your customers don't follow your process maps. They follow their own journeys, and often those don't align with what you think is happening. By walking in your customer's shoes, you discover what obstacles, challenges and opportunities there are for them along the way.
This type of journey mapping, often called Current State Mapping, is a way to take a snapshot of what customers are experiencing. Taking this approach requires a certain amount of humility and open-mindedness. It's important to truly understand what customers are finding great and not-so-great about their journey.
Real-life wins:
One client discovered customers were receiving duplicate emails, calls, and texts because of a system glitch nobody had identified for a segment of their customer base. It was easy to fix and those customers immediately engaged more with the communications they did receive.
A non-profit realized they had completely neglected donors if they donated more than once per year. They treated each contribution as the same, and these generous donors began drifting away when feeling ignored. The non-profit leadership quickly created an outreach program to these highly-engaged donors, leading to more contributions and engagement.
A financial services company found their customers were receiving communications with different acronyms for the same process! They improved their communications to all customers and decreased the number of calls into their service center.
Create What You Want Tomorrow with Ideal State Mapping
Customer journey maps can also be used to design an ideal customer journey. This type of mapping, often called Ideal State Mapping, is essential for start-up organizations or when brands want to make big changes.
These future-looking journey maps can also be used to design for specific groups of customers, a specific persona, or for a new product or service.
Real-life wins:
A fast-food restaurant chain re-imagined their entire drive-through experience, based on customer feedback and shifting demands.
A historic library focused on creating a more accessible experience for patrons with disabilities. They designed a better journey first, then worked with architects to make it happen.
Journey mapping in this way has assisted countless businesses like restaurants and storefronts navigate new journeys within pandemic restrictions.
Stay Ahead of the Competition with Competitive Journey Information
One of my favorite ways to leverage journey mapping is to include competitive journey information. This benchmarking helps you identify what expectations your customers might have, based on experiences with other brands. It also provides an opportunity to identify gaps in all the journeys – so you have an opportunity to fill those!
Competitive information is not just about what your competitors are doing. It's about understanding what your customers are using as they comparison shop, evaluate value, and determine who will earn their loyalty.
Real-life wins:
Thanks to including competitive benchmarking highlights on a current state journey map, one client discovered a new feature a competitor was announcing as upcoming for customers. The client actually already offered this feature, but called it something different, and customers weren't aware it was available to them currently. More communication and improved branding led to many customers renewing instead of defecting to the competitor who was announcing the "new" feature.
A technology company discovered a competitor was offering a lot more support for big rollouts, and while they originally thought they offered this on a comparable level, the journey map highlighted the actual touchpoints where customers were supported. The verdict: Company 1 delivered support along 5 touchpoints. The Competitor delivered support along 12 distinct touchpoints. Increasing support at key milestones proactively made a positive difference in both user ratings and renewal rates.
Including customer-provided photos and videos of visits to various retailers provided evidence that customers couldn't easily find what they needed in the client stores. Improved wayfinding and modern updates provided shoppers an easier, more pleasant experience.
Bonus: Be Your Own Disruptor!
What would a disruptor do to shake up your industry? Have you ever thought about how many industries were disrupted simply because…they never asked this question?
What stinks about a customer's journey in your industry? What's happening because "it's always been done that way?"
Customer journey maps can be used to think through these ideas. What if there was a magic wand? This type of customer journey mapping exercise can go beyond the Ideal State journey map by rethinking the entire industry. This is what brands like Uber, AirBnB, and Kiva did. They threw out the original journey map and started over completely to deliver new experiences.
Customer journey mapping is a great way to think through a variety of situations.
So where should you start?
If you're just getting started with customer journey mapping, I always recommend starting with Current State customer journey mapping. This is critical if you've never looked at the journey from the outside-in before and necessary if you plan on making real improvements to your customer's journey.
But don't stop there! Journey mapping is a way to explore what is possible today, tomorrow and in a future we design on behalf of our customers.
Tools to help: