Customers Want Personalized Experiences.
Customers have told us they want streamlined, personalized experiences. At each step in the journey with your brand:
They want to be recognized and acknowledged.
They want relevant, personalized offers at the right moment.
They don't want to repeat their issue and information over and over as they move from self-service to chatbot to service rep in frustration.
Customers Want Privacy and Data Protection.
And all of this, each step of this experience, requires strong data practices. We all have personal data stored in databases across the world, and that data can be "leveraged" for good and not-so-good reasons.
Consumers hear about data breaches often on the news, and are left wondering if their personal data was affected. Do nefarious players now have access to personal information like financial information, purchase history and even health records?
There is a struggle between providing the best customer experience and appropriately protecting consumer privacy. And rightfully so.
Reviewing the Data on Customer Data
Forrester predicted 2020 would see an increase in privacy class-action lawsuits against brands and organizations. And it looks like that prediction, unlike so many for 2020, is actually coming true.
Law.com reported: "In-house legal spend on class action lawsuits has increased for the fifth year in a row and will likely increase in the coming years because of the new coronavirus and data privacy laws."
Zendesk's 2020 Customer Experience Trends Report identified that companies that leverage the most customer data saw positive cost-savings and business productivity results. Those brands that manage data better than their competitors also delivered for their customers, solving four times the number of customer requests with 36% faster resolutions and a 79% reduction in wait times.
It's hard to argue with the value of that! Yet data is not just boring information when in the context of customer experience.
Customers know those personalized experiences mean personal data. They are becoming more aware and active in seeking control around the data they provide. Yet there is so much confusion about what data is being collected and how it is being stored, used, and shared.
I was asked to participate in the recently released Truata Global Consumer State of Mind Report, and the data is really compelling.
Truata surveyed approximately 8,000 individuals across the UK, France, India, and the US to discover their attitudes to the way businesses use their data.
The results show how consumers are looking for two things that are seemingly at odds with one another: more control over their data at the same time as wanting personalized experiences.
77% of global consumers believe they should own their digital selves, yet 65% of consumers have no idea about how much of their personal data is collected and what it is used for.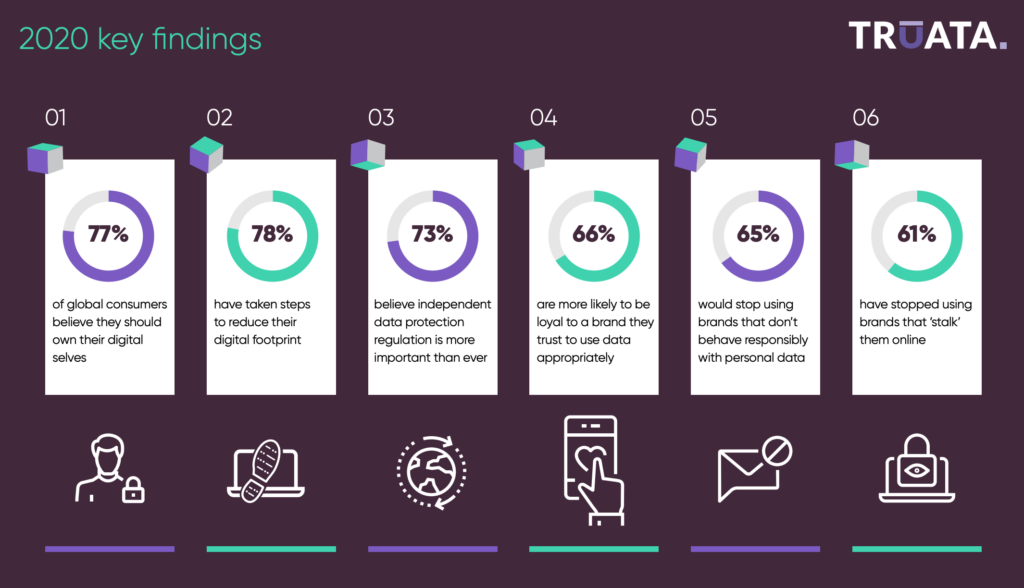 And customers are taking real action. According to the report, 61% have stopped using brands that "stalk" them online. And nearly one third of global consumers reported they've already stopped using or deleted a social media account because of privacy concerns.
The key takeaway here is that a personalized experience is not worth the risk of data privacy concerns to more customers every day.
There are cultural differences, too. 24% of Americans think it's acceptable to provide third party resources (health insurance, for example) combined personal data points like grocery shopping habits and fitness records from wearables. Only 16% of the UK thinks this is ok.
In The Capabilities Marketers Need to Build a Strategic Privacy Function, Forrester suggested, "Privacy is still an afterthought in most marketing organizations."
I'd argue the same could be said about many CX teams. Many customer experience leaders feel less confident about their knowledge around data control and so design customer journeys with an assumption it'll work itself out. 
Customer experience, by its nature, relies on collaboration from leadership across the organization. Data privacy concerns demand customer experience leaders play a bigger role in creating, executing and even challenging data practices in their organizations.
Simply put, data privacy can't be an afterthought.
What should CX leaders do to ensure data privacy?
I've compiled five core actionable initiatives your leadership team can take to begin ensuring better data privacy for your customers within your organization.
1. Create cross-functional support to proactively address data practices.
Customer experience leaders need to understand and support the data practices required to protect customer information.
CX teams need to create collaboration with Information and Security leaders. There needs to be education and open dialogue on how customer data is used. As new customer journeys are designed, data should not be an afterthought.
Collaborate across your organization to ensure the data is used at the appropriate place in the appropriate way.
Run through "worst-case" scenarios and design safeguards for both customers and your organization.
Rely on the expertise in your organization. Invite their insights early and often as customer experiences are designed and improved.
2. Make privacy and data control easier for customers.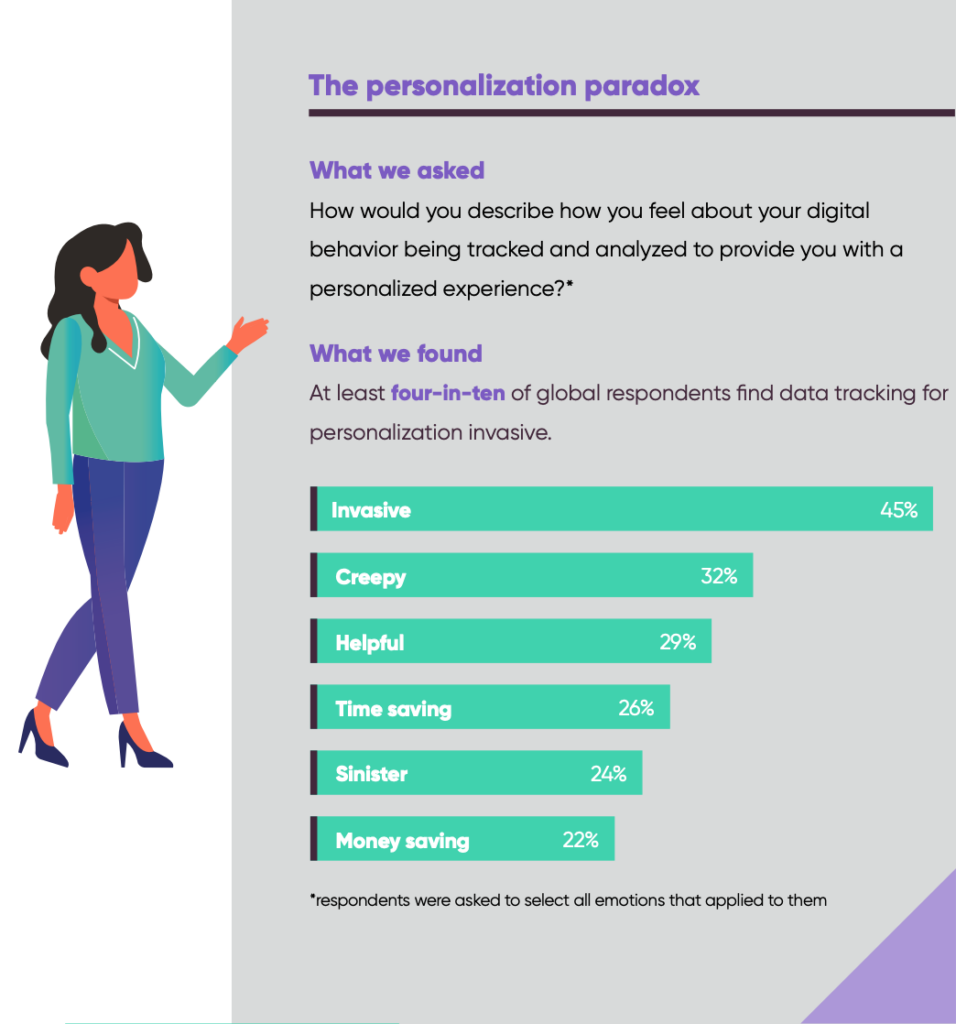 Let's face it. Customers aren't known for reading the fine print. Most customers don't really know how to control their data. And when they try to find a way, it can become overwhelming.
The Truata report found that younger generations (Gen Z and Millennials) are more aware of how to protect themselves so are more likely to have taken steps to protect their digital selves.
How easy does your organization make it for your customers to educate and protect themselves?
Customer experiences should provide ample ways to remind customers where and how to take control of their data. Consumers are sensitive to "digital creep." A consumer might agree to receive personalized offers from a brand, but then be deluged with email offers that don't feel personal or relevant. They need to feel in control of their experience, and much of this comes down to control over their data.
I like the idea of creating consent and data preference interactive tools, like self-service dashboards or proactive reminders to review data policies for customers.
It doesn't have to complex and complicated to the customer. It's about showing them they have control over their information.
3. Communicate clearly about how the data will be used.
Speaking of creating less complexity…it's time to speak directly and clearly to customers about privacy. Consumers are savvier to how their personal data can be bought, sold, and combined. They hear about the data breaches and realize even though they've never been a direct customer, somehow their data was impacted.
Proactive, concise messaging is sorely needed in most customer journeys.
This is no small feat. Brands will learn from one another on how to do this well. I would hope after some time there may be accepted best practices and familiar language to use consistently for customers. Customers deserve to know how their data is being used, and shouldn't have to read through corporate-speak and technical language to find out.
4. Ask your customers what concerns they have.
Voice of the Customer (VoC) programs often neglect concerns around data privacy. But consumers everywhere increasingly connect how their data is handled with their perception of the brand. The majority of consumers, 65%, would stop using brands that don't behave responsibly with personal data.
What does acting responsibly mean to your customers?
What concerns do they have about how their data is used?
Are they aware of how they can control their personal data with your brand?
Gather customer feedback to determine how to proactively communicate. Customers want to know you're focused on protecting their information. Asking them about it is a great way to show them you are taking these issues seriously.
5. Keep learning.
I'm the first to say I'm not a data privacy expert. The way our systems can manage the billions of data points is almost magical to me. But I know enough to know I need to keep learning, and if you're reading this, you probably would acknowledge the same of yourself.
We need to stay literate on data issues and rely on experts.
We need to understand the concerns and how those breaches could happen, even if in theory only.
We need to go all-in on reducing customer effort. Yet, streamlining and connecting consumer identities must be weighed against the risks of using that data.
Don't let data issues be something to worry about later. Later is simply too late.
Why should CX leaders care about data privacy?
The short answer is because it's the right thing to do. If you're reading this, you're an internet user and that means your data exists across databases around the world. It's easy to be empathetic to a reality we all share.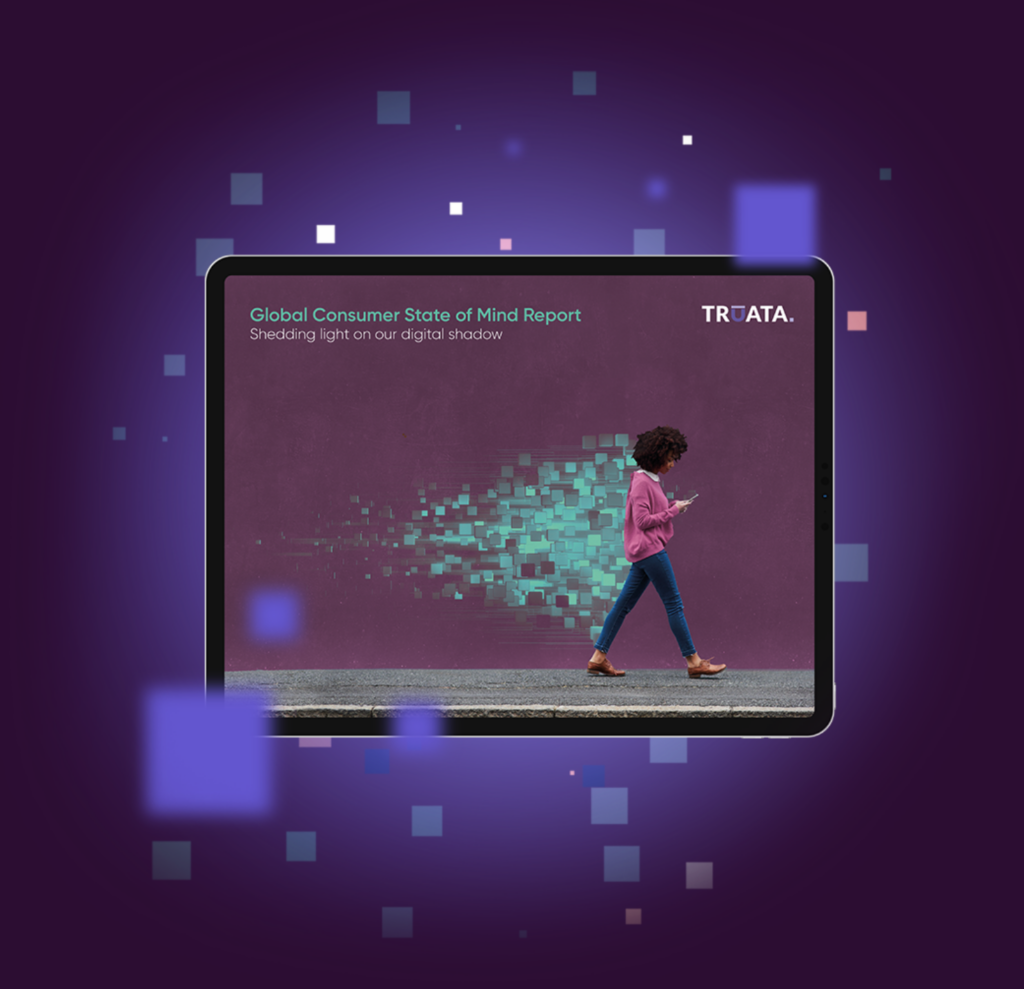 The business answer is because it gets results. Better personal data practices lead to more loyal customers…66% answered they were more likely to be loyal if they trust their data is used appropriately. That's better business all around.
Data privacy is a complex topic, and it's easy to let that overwhelm us as leaders, hoping that everything will work out without our close attention. But there's another way we can look at data privacy: As one of those special cases where doing what's best for the customer and best for your bottom line can be the same thing.
Want to get started on your data privacy education? You can get your copy of the Truata Global Consumer State of Mind Report here.