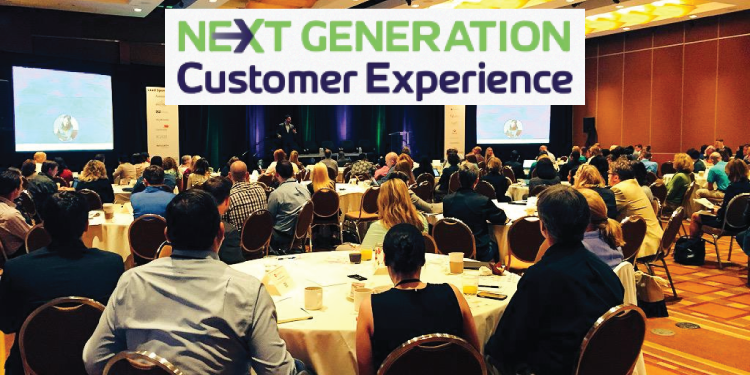 I'm speaking at the Next Generation Customer Experience conference in San Diego this week, but today I got to be an attendee and participate in some great conversations about customer experience.
There were sessions on co-creating with customers, social media, and customer journey mapping. Throughout all these sessions, as well as the sidebar conversations in the San Diego sunshine, certain topics came up from many angles.
So many answers! #NGCE http://t.co/iWsV0WPRwk pic.twitter.com/U8rdqOdYqS

— Mike Zarin (@zarin) March 24, 2015
1. Think about where you want to go.
Michael Perman, Dean of Innovation from Gap, Inc. discussed how challenging it is to think of innovation in positive terms.
He shared the example of how we as humans tend to start with what we don't want. If we're asked to go to dinner, we might say "I don't want Italian" as a starting point. This isn't about what you want, this is about what you don't want.
Thinking about innovation in these terms is limiting. So Perman and his team make it a point to identify where they want to go, not where they DON'T want to go. It's a subtle but important idea.
2. Get real about your experience and brand.
Kevin Gibson, Consumer Experience Leader, Humana, shared how Humana has been evolving their brand and the experience to match it.
Behavior internally reflects externally. It's vital to get rid of acronyms and business speak so it doesn't sneak into customer service conversations, sales calls, or customer conversations, because it inevitably will!
Case in point: Gibson discovered many customer communications said "you are terminated" because that was legal language. It's time to convince the powers that be that customers need to hear human language. There are ways to do this without risking anything.
3. Data can't always tell you what's in store.
Gina Bhalwalkar, User Experience & Accessibility at Scottrade, led a workshop on Future State Customer Journey Mapping. She's passionate about how useful it can be to organizations. I love future state journey maps and agree they are far underutilized.
The bottom line is that innovation around the future of experience means relying on resources not necessarily aligned with data. Current state journey maps are often based on data, but future state is about predicting and imagining what's next. Bhalwalkar's advice to avoid over-engineering journey maps rang true. I've seen many projects die from too many layers to even get started.
Start small, and see the results. Then build from there!
Leaders often not aligned: what they want for the customer. A future state journey map is a helpful tool. via Gina Bhalwalker @scottrade #ngce — Jeannie Walters (@jeanniecw) March 23, 2015
It's all about being human.
Other topics that dominated included the challenges around multi-channel, "nomadic" customers and how difficult it is to understand them. And music to my ears was the recurring theme around being human. It's critical to think like a human and understand the human connection as part of the customer experience!
Stay tuned!
This was just the first day here, so I predict I'll have lots of ideas from the rest of the week. I am so thankful to hear about more than data and be surrounded by so many dedicated customer experience professionals. Who knows what the future will bring? But I'll bet on better experiences for everyone.
---
Update:
Want to hear more insights from the Next Generation Customer Experience conference? Find out how we learned emotions are the best customer metrics after all on day 2.