As readers of Experience Investigators are aware, micromoments help form an integral part of any customer experience. Micromoments are those little parts of the customer experience, often overlooked by organizations, that can have a big impact on the customer's experience, such as the phrasing of an email, the verbiage on a sign, or the greeting an organization uses when answering the phone.
We received a master class on the use of micromoments to support customer experience when we at CTS Service Solutions held a team retreat at Kimpton's Vero Beach Hotel and Spa (VBHS) awhile back.
While we chose the VBHS for many reasons, one of the most important was that Kimpton is a dog-friendly hotel chain, and Dalton, our Chief Happiness Officer, was attending the meeting.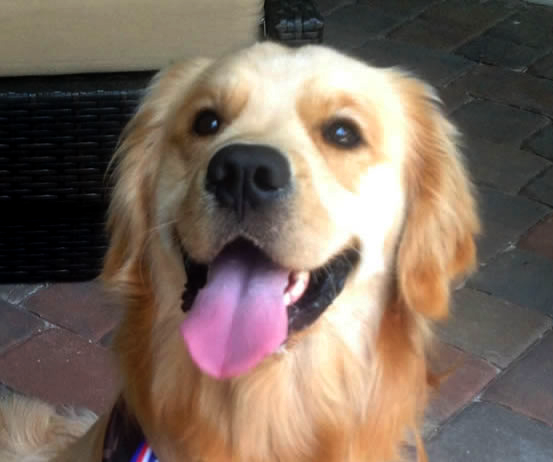 Kimpton is famous for its extra touches. In fact, Stan Phelps of 9 Inch Marketing has an entire series of customer experience books, his goldfish trilogy, whose name is derived from Kimpton's policy of giving customers the option to request a goldfish to keep them company in their room.
From the moment we entered the Vero Beach Hotel and Spa, we were struck by the small touches that welcomed us at seemingly every turn. These micromoments did more than just enrich each touch point; they also highlighted five important customer experience principles.
1. First Impressions Can Make or Break an Experience
The first impressions we received from the VBHS set the tone for our entire stay. The bell staff was responsive and greeted us warmly when we pulled in, and we were immediately met by a refreshing pitcher of lemon water upon entering the lobby.
More striking was the Kimpton brand sign. It did more than just display the company's name; it displayed the company's values and set the tone for what the guests could expect from their stay: care | comfort | style | flavor | fun.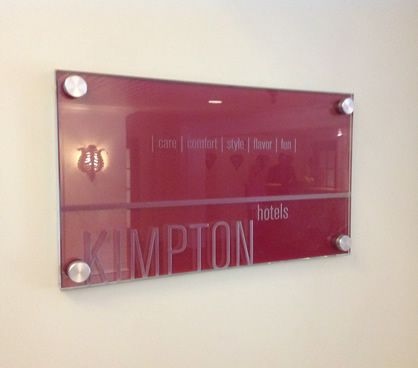 Many hotel brands are cognizant of the importance of first impressions. Their lobbies are often well-designed and include special touches. (Who doesn't love the chocolate chip cookies at the Doubletree?) For many hotels, however, the first impressions end there. Rarely is there follow up when you get to your room.
When we entered our room at the Vero Beach Hotel and Spa, we found this handwritten welcome from the housekeeper, Maria.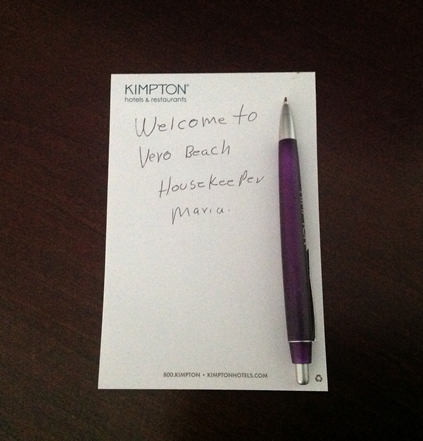 It was an unusual personal touch that was simple, memorable, and scalable.
2.Emotional Interactions are the Most Powerful
Kimpton understands the important place that pets have in many of their guests' lives, particularly dog owners who travel with their dogs. In fact, on our first trip to Vero Beach, we chose Kimpton over the other resort property in the area because we wanted to bring our dog.
Kimpton knows that dog owners, particularly large dog owners, are shunned by most hotels. So, it takes the opposite approach, embracing dog owners with an enthusiasm that is evidenced at many places in the customer's journey.
In the lobby, a water bowl awaited Dalton and the other four-legged guests, and sitting on the check-in desk was this pet-friendly conversation piece.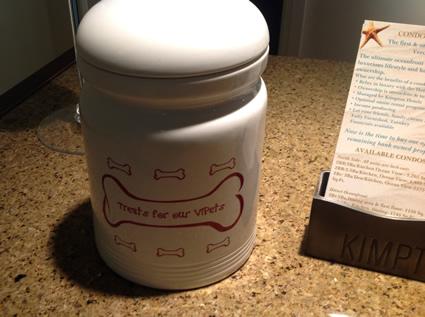 If you want to know how powerful this policy is, you only need to look to the competition. In the year since this stay occurred, the other competing resort hotel in Vero Beach has since begun taking large dogs as well.
3. Personalization Is The Ultimate micromoment
All of these small interactions are infinitely more impactful when personalized. Personalization doesn't just send a message that "we care"; it sends a message that "we care about you." Remember, the water bowl I just mentioned. Well, here is a picture of it; it was more than just a water bowl; it was a personalized welcome to every dog and a powerful message to every guest—you and your whole family are welcome here.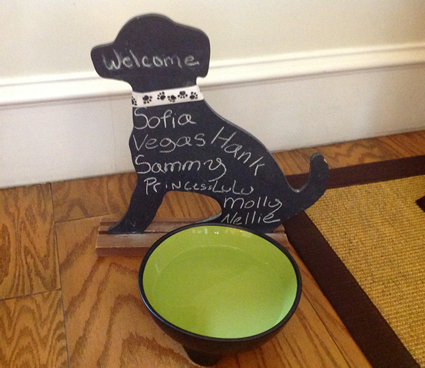 (Where's Dalton's name? It was there when we arrived, but I didn't take the picture until the day we left.)
Past the lobby, Kimpton made sure to personalize our experience even further when we got to the room. You may recall that the housekeeper left us a note welcoming us to the hotel. Well, the concierge took it one step further. In another part of the room was this handwritten welcome message.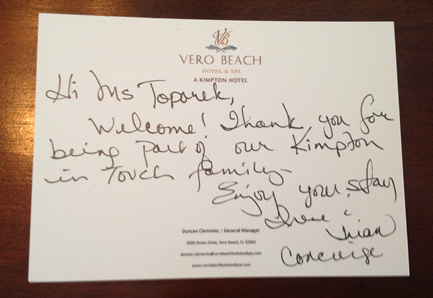 It is impossible to enter your hotel room, see these two personalized messages, and not feel that you are having a different experience than you do at most hotels.
4. Hassle-Free Experiences Rule
One of my primary areas of focus when speaking to business leaders or frontline reps is making customer experiences as hassle-free as possible. Through thoughtful planning, the VBHS sought to eliminate many of the minor inconveniences that travelers encounter.
How many times have you been to a hotel and had to unplug your electric razor or toothbrush to dry your hair? Hotel hair dryers almost all have that bulky plug (known as a "wall wart" by the musicians out there) which often pushes out any other items you have plugged in.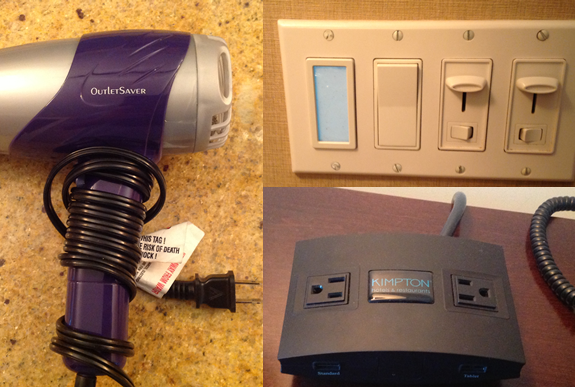 I don't know if this hair dryer cost Kimpton significantly more than what the competition pays for the standard wall-warted hair dryer, but having a standard electrical plug was one of those thoughtful micro-moments that made us ask "why doesn't every hotel have these?"
When your customers are saying that about you and thinking about how your competition is lacking, you have done a good thing.
As you can see, the bathroom wall went beyond the normal flip switches and had both a nightlight and dimmers. The hotel also had an upgraded, modern outlet system for the desk. Neither of these things are revolutionary, but the point is the VBHS had them—along with everything else.
Now, most mid-range to luxury hotels have a placard somewhere in the bathroom saying "forgot something" and having a list of items they are happy to bring you. However, take a look at Kimpton's list. It is significantly longer and more thoughtful than any other list I've seen.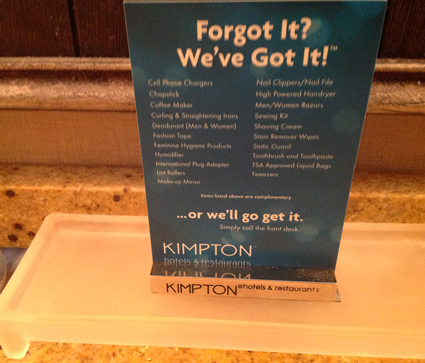 Cell phone chargers? TSA bags? How's that for thinking about what matters to your customers, what inconveniences them, and proactively addressing it. What's better is the message at the bottom; these are complimentary, but whatever you need, we'll go get it.
5. Fun Is a True Differentiator
If you may recall from Kimpton's brand lobby sign, "fun" was one of the core values listed. In this case, a picture is worth a thousand words, and the poster here says it all.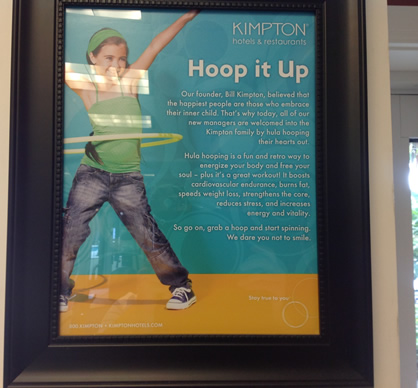 But the sign's admonition to "grab a hoop and start spinning" is not a metaphor. This poster is located in the gym — right next to these: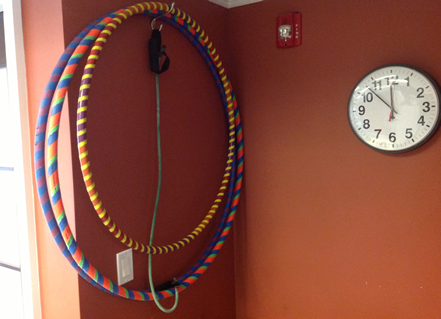 Lots of organizations list fun as a value. Kimpton truly backs it up in word and deed.
micromoments can break a customer experience, but they can rarely make one by themselves. These small interactions are but the icing on the larger cake of customer experience. The basic product or service must deliver what is expected before anything else can happen.
That being said, the small moments add up. They accrue to create an overall customer journey that resonates with customers, particularly when they are based on sound customer experience principles. If you look at the pictures above, you will likely have seen a number of these touches at different hotel chains. At the Vero Beach Hotel and Spa however, the experience was the sum total of many micromoments, spread across many touch points, and creating a total customer experience from beginning to end that resonated long after it was over.