Have you ever thought about how cool it would be to have one of those dinner parties with people you admire? I believe many of us dream of getting folks around a table to share what inspires them, how they are successful, and what makes them tick.
That's essentially how I see the podcast I've been co-hosting with Adam Toporek for a year now, Crack The Customer Code. We interview people who inspire us and make things happen. We've interviewed a diverse group of customer experience professionals (and many others who don't have "customer experience" as part of their title) and make an impact on the customer experience they offer.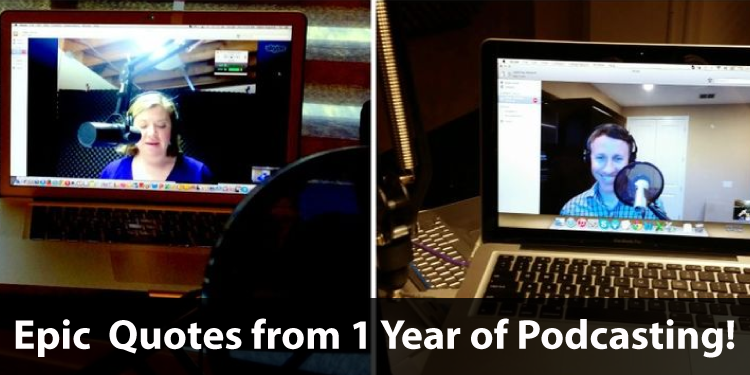 It's been quite the educational journey, not just for how to be more strategic about customer experience, but also for how to run a podcast, how to interview guests and how to listen for the nuggets of wisdom. We are forever students and still learning, but these are the standouts from some of our guests thus far.
We've reached our 73rd+ episodes now, and the list of great guests is too long to provide here. If I consider all the things I wasn't expecting to learn, the list would be even longer. Here is a small selection of some the business quotes and lessons that stuck with me!
Ann Handley
'Content is everything the light touches.' - Ann Handley @annhandley
Click To Tweet
Not surprisingly, Ann Handley offered tremendous insight into how communication is really a key part of the customer journey. I wonder how many experience designers forget this piece of the puzzle?
Jackie Huba
'Make your customers feel like rock stars!' - Jackie Huba @jackiehuba
Click To Tweet
We started the podcast with a superstar guest, author Jackie Huba. Jackie told us what we could learn from Lady Gaga, and there were multiple lessons to hear.
Mari Luangrath
'Social media can be a competitive advantage.' - Mari Luangrath @foiledcupcakes
Click To Tweet
Mari Luangrath shared how she built a company with no storefronts, just social media! (Spoiler alert – she listened to customers!)
Gini Dietrich
'The future of PR is customer experience.' - Gini Dietrich @ginidietrich
Click To Tweet
Gini Dietrich shared her view of the future of her profession, and yes, it's customer experience. Listen to her vision for avoiding spin and companies getting real.
Stan Phelps
Stan is all about the little extras.
'Lagniappes are about giving a little extra.' - Stan Phelps @9INCHmarketing
Click To Tweet
I've often discussed this as part of customer experience, but Stan starts with marketing. It makes perfect sense when he describes it. Listen to the episode here.
Mike Wittenstein
Mike Wittenstein (@mikewittenstein) advised us to 'start where we are.'
Click To Tweet
This is wise counsel in an episode full of wisdom!
Jeff Toister
'Employees are not the most common reason for service failures.' - Jeff Toister @toister
Click To Tweet
Jeff Toister enlightened us on how to approach process and training design to support service through your employees, not in spite of them! Learn more from Jeff!
Andy Crestodina
'Empathy is the greatest marketing skill.' - Andy Crestodina @crestodina
Click To Tweet
The always-informative Andy Crestodina shared how digital content strategy is all about empathy in episode #19.
Tom Martin
'You should be seducing, not selling.' - Tom Martin @TomMartin
Click To Tweet
Tom Martin has a way with words and this interview is no exception. He is the master of social selling, and he shared a great deal of his wisdom with us!
Mark Schaefer
'The amount of information on the web is expected to increase 500%.' - Mark Schaefer @markwschaefer
Click To Tweet
You read that right, and Mark Schaefer has the education we need to deal with what he calls "content shock."
Jeanne Bliss
'It's time to kill a rule!' - Jeanne Bliss @JeanneBliss
Click To Tweet
Jeanne Bliss offers her unique perspective on leading customer experience from the inside of a large organization. Her witty and insightful discussion can help anyone lead better!
Bob Burg
The original Go-Giver, Bob Burg, offered so much in his interview it was hard to keep up! One of my favorite points was about sales:
'You can't make the sale, but you can create the environment where that person chooses to buy...' - Bob Burg @BobBurg
Click To Tweet
Tom Schwab
'Inbound marketing is content that answers questions.' - Tom Schwab @TMSchwab
Click To Tweet
This deceptively simple and incredibly useful definition was brought to us by Tom Schwab, who covered how inbound marketing is really the way to serve customers long-term in episode 46.
Peter Shankman
'The only thing worse than a hater is someone who used to be a lover.' - Peter Shankman @petershankman
Click To Tweet
Author Peter Shankman advised creating conscious positive experiences to overcome the inevitable negative ones. Learn more!
Jeremy Watkin
'Approach the work from a standpoint of culture.' - Jeremy Watkin @jtwatkin
Click To Tweet
Jeremy Watkin's recommendation is powered by people, but only if they are trained and valued!
Shel Israel
'The future belongs to the millennials.' - Shel Israel @shelisrael
Click To Tweet
Shel Israel, best-selling author, shares how the best companies are understanding this and serving this group's needs.
Shep Hyken
'The amazing companies are just a little above average—all of the time.' - Shep Hyken @Hyken
Click To Tweet
Customer experience expert Shep Hyken has been studying what builds loyal relationships for more than 30 years and offers insights galore in his chat with us.
And of course, the list could go on and on and on…
Our guests have been incredibly generous with their wisdom and time, and our listeners have benefitted from it. Adam and I continue to be grateful for the opportunity our guests provide by hanging out with us for a few minutes.
And speaking of Adam, it's time to give my podcast partner and co-host a high five. I don't think either one of us had any clue what we were getting into when we started this adventure a year ago. (If you'd like to get to know Adam a bit more, be sure to listen to his interview.)
'Most companies are so afraid of (employee empowerment,) they under-utilize it...' - Adam Toporek @adamtoporek
Click To Tweet
Adam and I have weathered shifting schedules, getaway guests and timing turmoil. We do a pretty good job of showing each other patience. So thank you, Adam, for hanging in there for a year! Here's to more fun ahead.
And our sponsors are also a huge part of what makes this podcast work. (We have new packages now and would love to add you to the list for year 2!)
Finally, thanks to our listeners for being so loyal, offering great feedback and letting us know the work we do matters. We really couldn't do it without you!
If you have been with us for our rookie year or you are just discovering the podcast now, please know how much we appreciate you and as always, let us know your feedback! We are constant students and know there is still a lot to learn. We just have a whole lot of fun learning it!