Happy CX Day 2019! Customer experience professionals, enthusiasts and change agents around the world are celebrating today.
CX Day is all about celebrating our success, learning from our amazing community, and looking to the future of customer experience.
If you haven't already, get your CX Day started with a global good morning from some friends around the globe!
Join in the celebration!
Ways to Learn and Be Inspired:
Watch a Webinar
CXDay.org is your resource for all things CX Day today.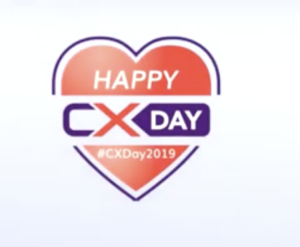 Check it out to find on-demand webinars with experts from all over the world, including me!
Watch: Building (and sustaining) a Customer-Centric Culture
Curious about what it takes to build a customer-centric culture? This webinar includes a panel of experts exploring what it takes!
Featuring:

Annette Franz, CCXP, CEO/Founder, CX Journey Inc.
Nienke Bloem, CCXP, Founder, CX by Nienke Bloem
Scott Draeger, CCXP, VP of Customer Transformation, Quadient
And yours truly — Jeannie Walters, CCXP, CEO/Founder, Experience Investigators

Looking for more webinars? Check out our YouTube channel.
Get Inspired
My CX friend Stacy Sherman highlights several ways to get inspired for CX Day, including my TEDx Talk. There's a lot of great stuff here.
Read: Inspirational Ways to Increase Your CX Skills
Celebrate With Us!
I recently wrote a blog about how to celebrate with us on CX Day.
Read: CX Day 2019: What It Is, When It Is, and How to Make the Most Of It
Just in case you're in Chicago…
Join us on CX Day at Highland Solutions (in the beautiful Chicago Board of Trade building) for a fun, interactive "Lightning Round" discussion of all things CX!
No matter where you are on the CX curve, we'll have something for you. Our panel of experts will take your questions and have 3 minutes to give their words of wisdom.

Learn More & Register Now
Or, Just Join Us for a Toast!
Cheers! Before the end of CX Day, grab your favorite beverage and raise a toast to CX. Dedicate a celebratory toast to your team or customers. Then post your toast photos or videos to our Facebook page with #CXDayToast2019!
Keep Up the Learning at B2B Next
One day not enough? Tomorrow, October 2nd I'll be moderating a panel about Customer Experience Case Studies. You'll be sure to learn!
Learn More & Add to Your Calendar
How Are You Celebrating #CXDay?
Tweet at me and let the world know!
Hey @jeanniecw, happy #CXDay2019! I'm celebrating by... (pssst... tell us all how you're celebrating here!)
Click To Tweet