Content marketing is such a big trend and for good reason! (In case you didn't know it, the only marketing we've ever done here at Experience Investigators by 360Connext is blogging, speaking and social sharing.) I'm a believer.
One of the smartest experts on this subject is Andy Crestodina, co-founder of Orbit Media and the author of Content Chemistry. (This is a fantastic resource of a book! I highly recommend for anyone considering their own content marketing strategy.)
True story: I've known Andy for about fifteen years. He's been this smart the whole time!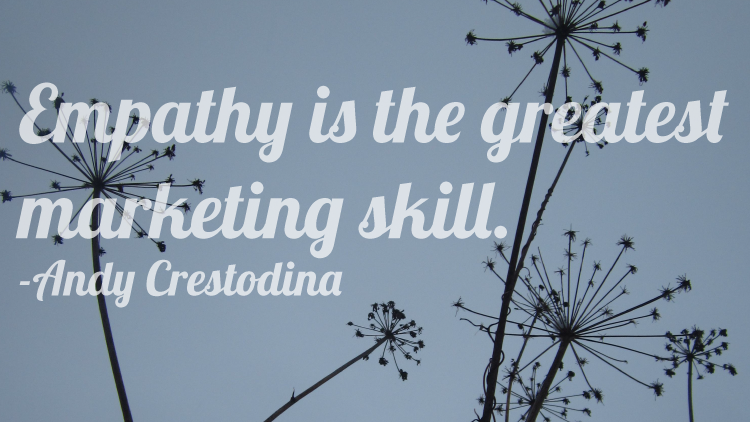 Real content marketing wisdom
Andy spent some time with us on Crack The Customer Code, the podcast I co-host with Adam Toporek, and outlined a content marketing strategy that works.
The most important part of any business strategy is results, and content marketing strategy is no different. Andy outlined really what needs to be measured.
"In the marketing context, especially digital, we're really measuring just two numbers. The first number is the total number of visitors to our website, and the second number is the percentage of visitors who act. It's traffic and the conversion rate." – Andy Crestodina
The 411 on conversion
Andy also discusses how conversion is based on a variety of factors, including questions like:
• Does the page have few distractions?
• Is the call to action very clear?
• What is the relative visual prominence of all the elements on the page?
• Does the page have clear social proof and evidence that we're legitimate?
• Does the page create urgency?
Marketing hasn't changed all that much, but the tools have.
Marketing has always been about psychological triggers, and as Andy puts it, human brain chemistry doesn't change just because we're using the Internet.
Content marketing is here to stay, and as a one-to-one marketing and communications strategy, it can be very powerful. I hope you'll listen to the episode to hear all of Andy's great wisdom on this topic.
And I may have asked him to marry my blog. But that's a dream of mine!
Andy's strategies are the antitheses to those who try to game the system and write for SEO and Google instead of for customers, which we also discuss in this episode.
Listen in!
You can hear the whole episode here, where we also discuss handwriting robots. Yes, that's right, robots! Will they make things easier or take over the world? You should probably listen to find out, don't you think?
Big thanks to Andy for bringing the wisdom!