This article is sponsored by PayPal.
---
ne·glect /nəˈɡlekt/
verb: fail to care for properly.
noun: the state or fact of being uncared for.
from Oxford Languages
---
Neglect can feel like a harsh word. It's easy to think that if we're neglectful toward our customers, it must be through some negative action.
But the most common type of customer neglect we see is simply the lack of attention paid to putting the customer first.
Your customers are interacting with your organization, calling service numbers, navigating mobile apps, and waiting for products. They are doing this whether or not you are focused on delivering a great experience. 
Customer experience, by its very definition, is happening whether you are intentional or not
The brands that do pay attention to the details of the experience they deliver are the ones who disrupt markets, gain more customers through referrals and word-of-mouth marketing, and keep their customers happier, for longer.
A great customer experience is something customers tell their friends about – leading to referred customers. According to a 2020 study by SaaSquatch , referred customers provide a higher lifetime value than those not referred, and have a higher spending rate than those not referred.
That's why paying attention to the details of the experience can help brands disrupt markets, gain more customers through referrals and word-of-mouth marketing, and keep their customers happier, for longer. Many large companies have disrupted entire industries based on experience improvements, not products.
While it's easy to think customer experience strategy is just about simply being kind or exceeding expectations, it's of course about so much more than that. 
Customer experience is about understanding your customer's needs and expectations, then ensuring that their entire journey is full of ways that show you know them, care about them, and set up to earn their trust.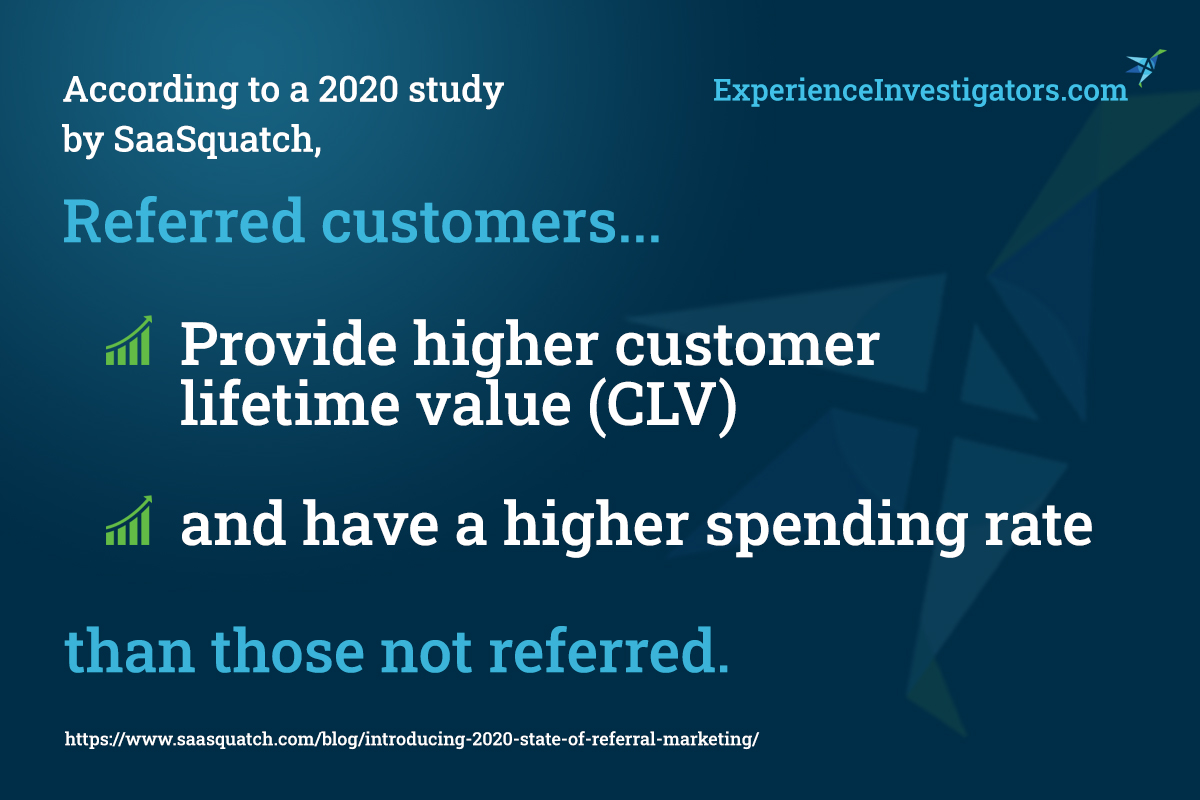 When thinking about your customer's entire journey, consider some areas you may be overlooking. 
Your customer has expectations from your brand throughout their journey. There are moments along the way you may be overlooking because that's how it has always been done, or because it's simply not a big moment. 
Consider what it takes to build trust throughout the journey. A study by BI Intelligence showed how it takes 12 (twelve!) positive experiences to overcome one negative one. 
That means that every overlooked moment — those moments that leave the customer feeling a bit neglected instead of cared for, or those moments when they need information or support and can't find it — matters. These are opportunities to deliver a positive experience and build that trust with the customer. 
Then, when things go awry, which unfortunately could happen in any customer journey, there is more of a chance to overcome that one negative experience and keep a customer happy.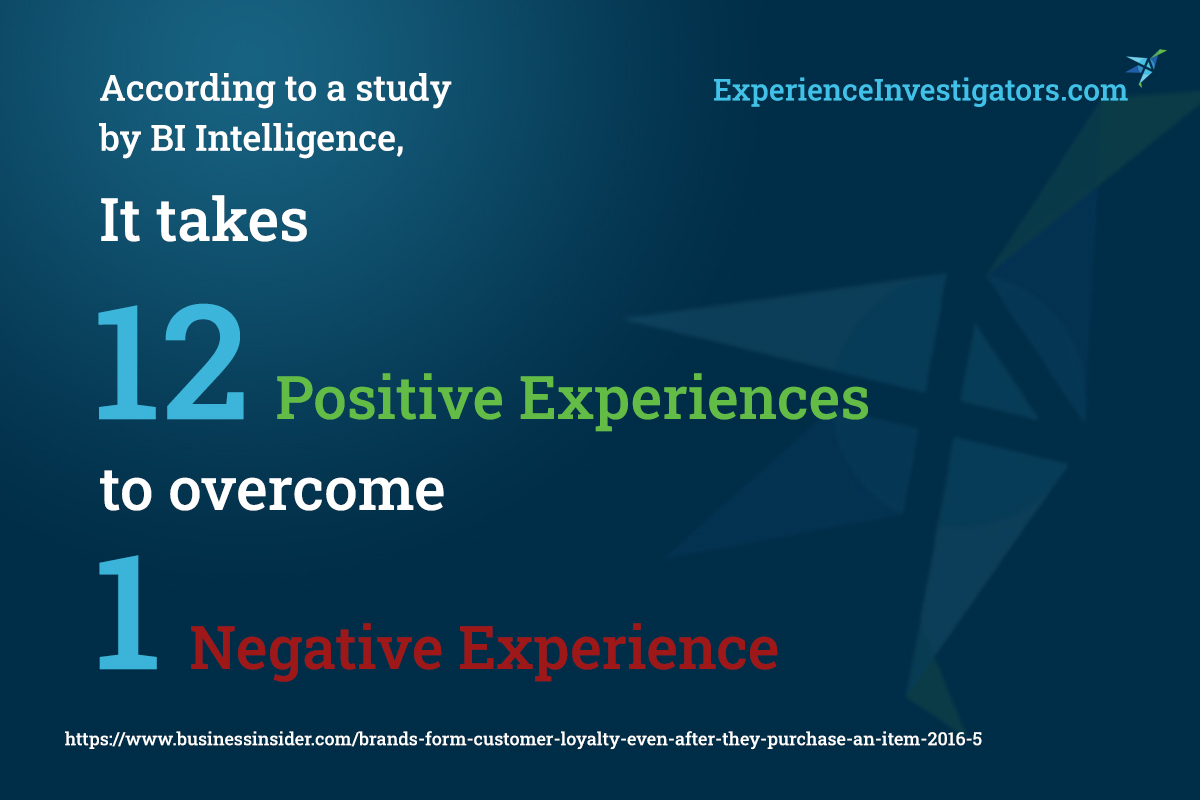 Knowing the moments to look for is half the battle. Let's dive into the five overlooked moments in your customer's journey.
Five Commonly Overlooked Moments in a Customer's Journey
Overlooked moment #1: Awareness and welcome
Customers start their journey as potential shoppers. At the beginning, they may not necessarily even be shopping for what your brand provides.
Take a look at the many ways these potential customers might first become aware of your brand. These first impressions make a difference, and may even determine if they choose continue their journey with your brand. 
The awareness phase is one of those moments to build trust or neglect it.
If you have a physical storefront, targeted mailings or product displays, take a hard look at what they say about your brand.

Store owners often walk in from the back of their store and might not notice the fraying awning on the front. The lack of care to the welcome mat, sometimes literally, sends an impression to your potential customers.

Awareness of a problem is what leads to searching for a solution. Search online for the questions potential customers are asking.

Don't just search for the brand, look for how social media users are seeking help and what other customers are saying about the brand. Are they recommending your brand or warning others to stay away? Don't overlook what others are saying about the brand, because that's where people are searching.

Once they decide to step proactively on the journey with your brand, how is the welcome handled?

Is it all advertising and "sign up now" or are there ways to get to know your customer better? Welcome potential customers who have decided to embark on the journey with you! 
If you're not sure of the path a potential customer takes during this part of their journey, leverage micromapping to help define and discover the specific steps they take, what they experience with your brand, and how to address it.
Overlooked moment #2: Proactively answering questions
It's easy to think that when a customer is exploring a product page on a web site that they are asking obvious questions like "what size will fit?" or "how much does this cost?"
But customers and potential customers are also wondering about the next few steps of the journey.
They might be wondering how the material feels, or if that product is compatible with their other devices. They are also looking for clues about payment options, delivery dates, and product return possibilities.
Customers today are looking for options. Consider how to inform customers BEFORE they contemplate the options available. For example, a customer might be concerned about when a product will arrive, or what payment options will meet their needs. 
On the product page, offer helpful content around what customers can expect. Mention that 2-day shipping is free or expedited shipping is available.

Offer a sneak peek on the product page into what payment options are available, like if buy now pay later options, such as Pay in 4 from PayPal , is offered. Highlight the return policy before the payment page.
These subtle but important mentions can reassure and encourage a customer to continue their journey, confident they are able to make choices that best suit them.
Overlooked moment #3: Education where customers need it
Customers will need some help along the way. This is especially important with technology products, Do-It-Yourself solutions, and anything else that could be new to the customer.
It's smart to align your customer's journey with your education strategy. It's even better if your brand can proactively guide a customer before they have to search for information and support.
A pet care brand did this extraordinarily well when I was researching what I'd need to bring home a puppy. (Quite literally asking myself, what on earth do I need!?) 
Through the digital journey, I was given proactive tips about training and care, along with helpful items suggested for the shopping cart. I felt informed and confident by the time I was checking out. 
Proactively supporting your customer's goals (like caring for a puppy) versus selling items fulfills a need your customer has AND drives sales of those very products.
Work with your content strategy to align with your customer's overall experience, not just the specific touchpoint or transaction. 
Overlooked moment #4: The Purchase
It's a little ironic to point this out, since the purchase is when a customer technically becomes a customer. But some customer journeys are full of personalized, helpful experiences during the pre-purchase phase and then feel very transactional at the point of purchase.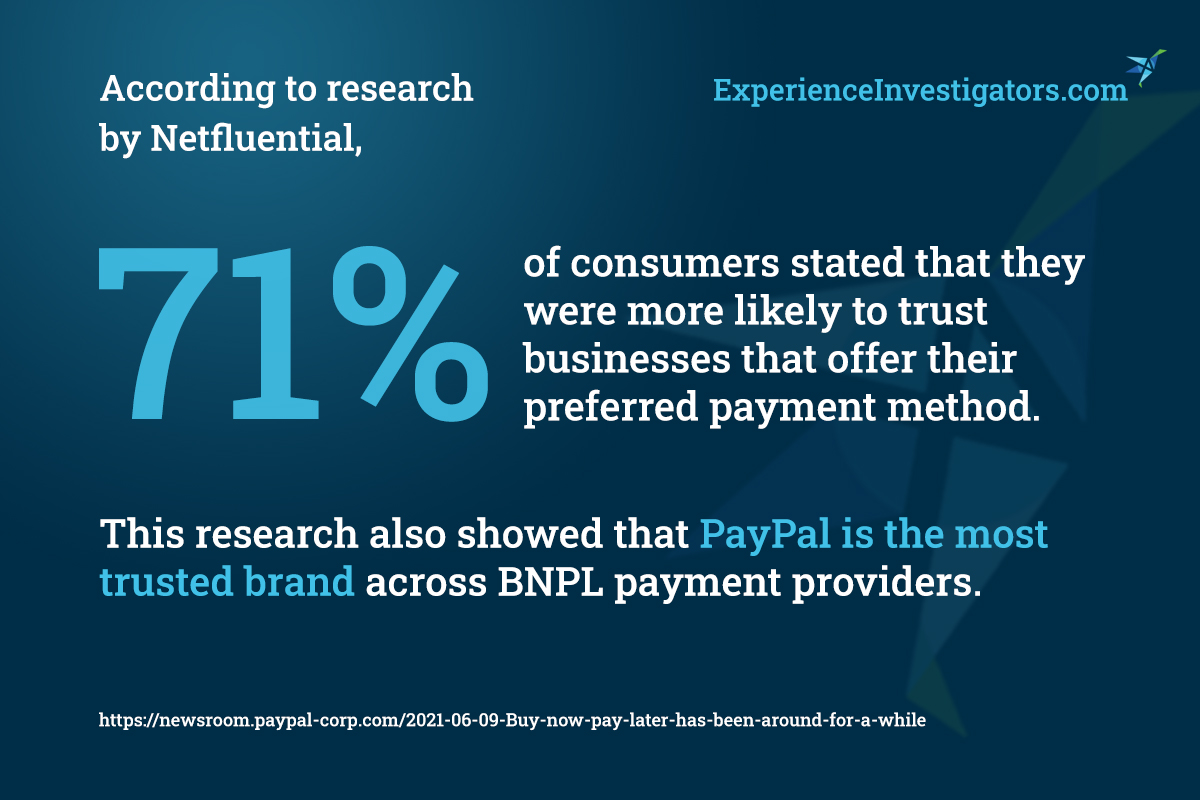 Purchase is more than just a transaction. This is a chance to build the relationship further. 
Recognize what your customer wants at the moment of purchase:
Respect how customers want to pay today. Many may be looking for ways to budget and plan without using traditional methods like credit cards with interest. This is where integrating flexible payment options such as PayPal's pay later solutions can build loyalty and reassure customers where they need it. PayPal Pay in 4 allows customers to split their purchase into smaller, more manageable amounts that they can pay over time, interest-free. 
They want to ensure it's a trusted way to pay.

Reputable brands and options build trust and credibility. According to Netfluential's research,

71% of consumers stated that they were more likely to trust businesses that offer their preferred payment method.

This research also showed that PayPal is the most trusted brand across BNPL payment providers.

Payments are often treated in such a transactional way

that customers receive a confirmation that doesn't recognize who they are at all. I believe the brands that make this moment matter recognize the customer with gratitude, and even excitement. 
This leads to our final overlooked moment!
Overlooked moment #5: Celebrations
None of us are in business without customers. Yet we sometimes move beyond the purchase – that moment they become a customer – and do very little to help them celebrate the moment.
It's a big decision to buy a couch or a car. Don't move past that without celebrating to make it a personalized, memorable experience for the customer.
Celebrate in the moment.

I ordered Halloween costumes for my kids one year online and received a video of everyone in the warehouse cheering as part of the confirmation. It was just a fun way to celebrate something simple, but it recognized me as a customer.

Send them something that will help them get the most out of their purchase.

This can be big or small. A carpet installer used to create carpet deodorizers with different scents and provide a box of samples to their customers. Not only was this a nice way to thank them and celebrate their new purchase, but it led to customers staying in touch and asking for more. Instead of a transaction, it led to a relationship.
That's what these moments can lead to – a long-term relationship instead of a transactional moment in time.
Ready to move past neglect?
Take a look at your entire customer journey. Look for these specific moments and ask: How many of these has our organization been overlooking?
Whatever the number, don't feel bad — these are common because many organizations struggle with them. But your brand can take proactive steps to make these moments better.
Remember, customer experience happens whether you're intentional about it or not — so try out some of the recommendations I mentioned, whether that's educating your customers, offering more ways to pay, or celebrating with them, and start proactively improving your customers' experience.
Additional Resources:
Looking to step up your game further? These links can help: