How Customer Experience Maturity Develops
There is a natural arc to how an organization matures when it comes to customer experience. Let's look at a common example scenario:
First, it starts with an idea: customers are important! We should pay more attention to them.
Next, it moves to what can be done. Typically, this means collecting customer feedback. The majority of organizations do this with surveys.
Eventually, the organization gets to a point where they are applying CX best practices and doing what needs to be done for actual Customer Experience Management.
Related: Customer Experience Management Defined: How is it Different than CX?
All good so far, right?
Maybe Not.
How Customer Experience Maturity Splinters
We've reached a stage when CX best practices are being applied and acted upon. But whose best practices?
By this stage, Larry from Product and Sally from Marketing have created their own surveys. They're each using tools they brought over from their old jobs, so they aren't synced and the data isn't centralized.
This means that Customer Joe has received three different survey requests in two days from three different senders. And Customer Maria has completed a form at the end of a purchase process asking for someone to contact her about her issue.
She is still waiting.
Meanwhile, Malik from the Social Media Response team is doing his best to reply to customers who say they've complained about this issue before — even though he doesn't know what the root cause of the issue might be — and Padma from Customer Success doesn't have any visibility into what customers are saying at all.
Good intentions that are poorly executed put both employees and customers in a bad place. But this happens. And as organizations move into new phases of their own customer experience maturity journey, they sometimes don't even know what's already happened.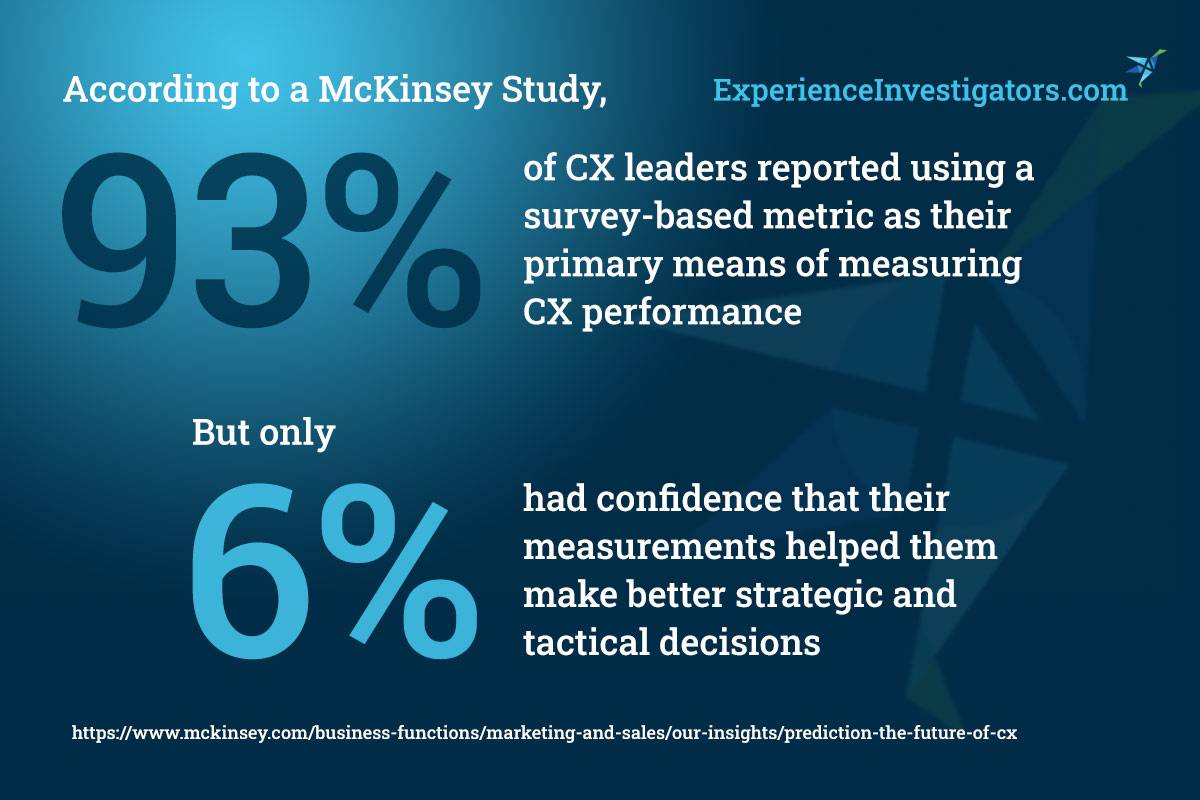 Serious investments are made into HOW organizations listen to customers. 93% of CX leaders surveyed by McKinsey reported using a survey-based metric as their primary means of measuring CX performance. But only 6% of them had confidence that their measurements helped them make better strategic and tactical decisions.
We need to do better, and we can — by considering gathering customer feedback as part of the overall customer journey. This means respecting the customer enough to carefully consider, design and plan for what, how, and where we listen for feedback.
A Customer Listening Assessment Can Help
Customer experience leaders often refer to "listening posts" in the customer journey. These are the individual ways customers are asked to provide specific feedback.
Related: Improving Your Voice of the Customer Listening Posts? Ask These Questions
Listening posts can be incredibly important to the Voice of the Customer program, and also provide the right information at the right moment for the organization. But listening posts can be a negative experience for the customer if they…
Are posted randomly throughout the journey by different leaders with different goals
Request feedback that is never acted upon
Don't provide the customer with any resolution or response
This is where a Customer Listening Assessment can be most helpful.
Goals & Outcomes of a Customer Listening Assessment
The goals of a Customer Listening Assessment include:
Discovering where and how the customer is asked for feedback.
Reviewing where customers provide feedback proactively.
Centralizing how customer feedback is collected, evaluated and shared.
Eventually, the results of the assessment should lead to even more specific outcomes, including:
Thoughtfully designing where and how to request customer feedback based on their overall journey.
Ensuring feedback requested is tied to actions and outcomes.
Closing the loop with customers in a consistent way.
Including customer feedback from sources where customers share on their own into the Voice of the Customer program.
Empowering employees to make better decisions based on the Voice of the Customer (VoC) program.
But to get to any of those outcomes, it's important to review and assess where your customer listening programs are today.
Three Steps to Assess Your Customer Listening Program:
1. Find out where customer feedback is actually collected.
If your entire organization uses the same survey tool and data is centralized, this can be easy to figure out. But if, like many organizations, yours has a haphazard or decentralized approach to collecting feedback, this can be challenging.
To find out who is sending surveys to customers, sometimes the best option, ironically, is a survey. Ask team leaders throughout the organization to complete a survey about if and how they're collecting customer feedback. Track what tools, questions, and outcomes are being reported.
It can also be helpful at this point to use a customer journey map if you have one. If not, create a customer listening map, which identifies where customer feedback is requested along the journey.
This is also a great time to review how surveys are designed, what questions are asked, and where redundancies might lie. This means applying best practices in personalization, survey design, and question writing.
Review where feedback collection is working for the benefit of the organization and the customer. Friends don't let friends send out bad surveys that are not tied to real action!
Ask:
Are there clear, organizational rules around how, when and what feedback to request from customers? Is there governance around how to best approach surveys and the methods in which they're presented to customers?
Does the customer journey include the right listening posts in the right moments along the journey? Are there too many or too few?
This first step is all about investigating where customer feedback is requested. Next, let's move into the places customers offer feedback on their own.
2. Look for where customers are already sharing.
Surveys require customers to respond and are limited to the questions asked. Many customers who won't complete a survey still have things to say – and they want you to hear them.
Keep an eye on feedback across channels. Customers often share feedback in user forums, review sites, and social media. Look for where those customers are asking for specific responses and how they are presenting their feedback.
It's also a good idea to review distribution channels and partner sites. For example, a customer may share feedback about a new car on the dealership site, not the automaker's site.
Ask those who interact directly with customers what they are hearing. Your contact center agents and other frontline workers hear from customers every day.
Look for what leaders are involved along the way. Is anyone actively responding to customers, acting on feedback, or closing the loop? Include this in your assessment.
Ask:
Who is monitoring the locations identified where customers offer opinions and recommendations like they do on product review sites, user forums, and social media communities? What is expected around collecting this feedback, and are customers expecting action and acknowledgment in these spaces?
Are there ways for customer-facing employees to submit customer feedback they experience in real-time? Is that connected to the customer data overall? This should include Contact Center agents, Delivery agents, and Social Media Managers, and others in customer-facing roles.
3. Review how and where data is collected, used, and shared in the organization.
Once you know where customers are sharing feedback, now it's time to consider how that feedback is used.
It's a good time to consider how to address systemic issues that can determine the success of a Voice of the Customer program.
It's not unusual for these questions to lead to other discoveries. These might lead to finding where there are gaps in understanding customer expectations and needs. They might lead to identifying where more communication and education are required. They might cause more questions before all the answers are revealed.
This might feel overwhelming, but ultimately it's a positive: By assessing your customer listening program, the insights and benefits will extend well into the customer experience.
Ask:
Do teams have the right tools and technology to collect, evaluate and direct action around customer feedback?
How is the customer data organized? Is there a centralized view of customer data, or are survey results and other data housed in separate databases or team workflows?
Who is responsible for actions required, including addressing customer issues and closing the loop with the customer? If nobody is, that's an issue!
Better Information Can Lead to Better Actions
A customer listening assessment is all about gathering the right inputs to ultimately design and develop the right outputs.
Customers are ready to share their feedback with you. They do so because they expect it to be heard, understood, and acted upon in meaningful ways.
A customer listening assessment is a way to respect that relationship with the customer and ensure their valuable feedback is prioritized for them and for your organization.
You might be listening to your customers today. A Customer Listening Assessment can help you listen for the right things in the right moments well into the future.