Managing time and workload will be the biggest challenge that customer support professionals face in 2016. With the rise of multichannel support, there's a risk that support professionals will burn out if they don't take steps to manage their workload more effectively.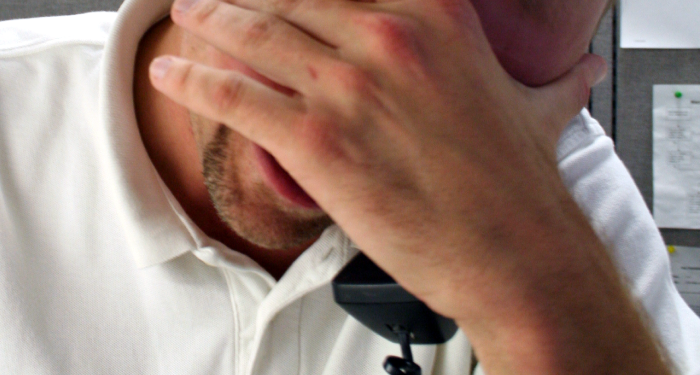 A new study by Kayako looked into the state of the customer support profession in 2016 and found that support professionals are already suffering burnout, with 73% reporting that their greatest challenge is managing their workload. However, the study showed that worse may be yet to come if companies don't take action to protect their support team from buckling under the weight of their burgeoning workloads.
Customer support teams are losing interest in their work
Customer support professionals are generally satisfied with their jobs. But the report found customer support workers lose interest in their jobs over time.
Respondents were asked to rate two things:
Their current level of job satisfaction
Their satisfaction level when they first started their role
The results showed a 6.8% decrease in their job satisfaction over time.
This could be why 40% of respondents were shown to have an average tenure for between one and three years, with support agents staying in their jobs an average of just two years and eight months. This is much shorter than the average tenure for today's workforce, which stands at 4.6 years according to the Bureau of Labor Statistics.
This is a clear indicator that as support professionals experience burnout, they become less satisfied and less engaged in their role. What could be burning them out?
Burnout will only increase with multichannel support
To investigate this further, the report looked into some of the most challenging aspects of the customer support profession. The majority of respondents (73%) answered that the most significant challenge they face is managing time and workload.
For the frontline workers, their time is mostly spent interacting with customers, and it could be the amount of effort they put into these interactions, or the pressure of dealing with difficult people that is burning them out.
'...as support professionals experience burnout, they become less satisfied and less engaged...' - @jeanniecw
Click To Tweet
But when we look at the day-to-day tasks that frontline support workers do, it quickly becomes clear that customer-centric work isn't the only challenge. Agents ranked delivering customer happiness and making things easier for the customer as the least challenging parts of their role.
So if it's not the customer interactions that are the issue, it must be the sheer amount of requests they have to deal with that's causing them to burn out. And multichannel support is only going to make this worse.
According to an Edison study, 42% of consumers expect a response on social media within one hour, and 32% think it should be within 30 minutes. This is on top of the other main channels they're already supporting such as: email, phone, and live chat. No wonder support staff are burning out so quickly.
It isn't until you look at the Director or VP role that you see these customer centric interactions emerging as challenges (notably the SLAs and workload for VPs emerges as a challenge.) This could suggest that Directors and VPs of Support are more concerned with developing and implementing processes that deliver delight at scale, rather than delighting customers on an individual basis.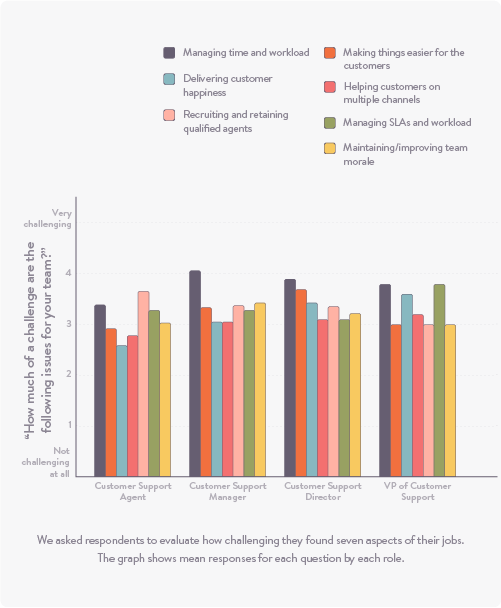 Burnout is an issue, so what can support teams do about it?
Burnout represents the biggest challenge facing the support industry today.
As we move into 2016, it's predicted that multichannel customer support is going to be an emerging trend. But how can support teams preempt multichannel support so it doesn't add even more to their heavy workload?
We have to recognize that aiming for customer delight or "wow" may not be the only solution.
Companies should stop placing focus solely on going above and beyond to delight customers. Research shows that exceeding customer expectations during service interactions makes customers only marginally more loyal than simply meeting their needs.
Support professionals who deal with customers daily know that it's not about doing more. With the predicted increase and demand for a support professional to be providing help on multiple channels, aiming for delight is not always practical and is often likely to increase burnout.
There are plenty of methods to lighten the load on support staff. First look at developing great self-service offerings to take pressure off support teams. Then you can begin to invest in things that can truly make a difference: better helpdesk software, hiring more support staff, and training and coaching your support staff.
As support leaders establish strategies to deliver support across multiple channels and reduce customer effort, we expect these methods to roll out across support teams, and are likely to become a significant challenge for frontline support workers in the near future.
Support teams work too hard and need help. Multichannel support is on the horizon which is set to make it even harder for support teams, and companies need to be aware that burnout will become an even bigger issue. They can take action now by looking at smarter ways to reduce customer enquiries, retain support staff, and keep their workload at a healthier level.
---
Take a look at the four new facts about the customer support industry in the Slideshare, or read the full 30-page report here.